Morrissey reveals new single and album details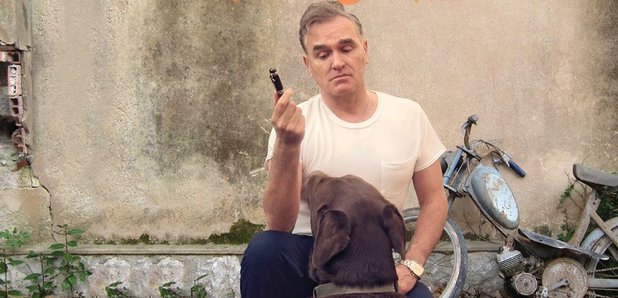 The former Smiths frontman's new single, World Peace Is None Of Your Business, is now available on iTunes.
It's the title track of the singer's tenth studio album, which will be released in July. As well as the title and tracklisting, Morrissey has also uploaded the album's artwork, in which he's sat looking a bit annoyed with a dog.
WORLD PEACE IS NONE OF YOUR BUSINESS TRACK LISTING:
World Peace Is None of Your Business

Neal Cassady Drops Dead

Istanbul

I'm Not a Man

Earth Is the Loneliest Planet

Staircase at the University

The Bullfighter Dies

Kiss Me a Lot

Smiler With Knife

Kick the Bride Down the Aisle

Mountjoy

Oboe Concerto
Scandinavia
One Of Our Own
Drag The River
Forgive Someone
Julie In The Weeds
Art-Hounds
World Peace Is None Of Your Business will be his first release since 2009's Years Of Refusal. You can watch the single performed live in San Jose below.