Morrissey Launches Scathing Attack On Glastonbury Over Cows
14 April 2015, 13:00 | Updated: 14 April 2015, 13:20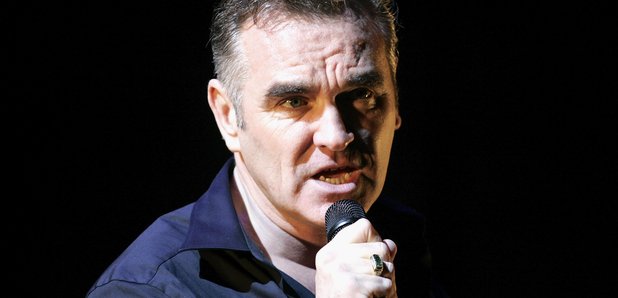 Morrissey has used his fansite True To You to post a blistering criticism of the animal rights policies of Michael Eavis, organiser of the Glastonbury Festival.
Morrissey has taken to his fansite True To You to issue a ferocious attack on Michael Eavis, calling him an "animal hater" and saying "cows are repeatedly raped and raped and raped" at Worthy Farm.

The singer was responding to comments by Eavis, in which the farmer and festival kingpin said that cows on the site were happy animals who had a very high milk yield.

"No Glastonbury cow was available for comment, and no cows were heard laughing," replied Moz. "In order to 'have the highest milk yield in the county', a cow must be persistently 'raped' against its will (a logical assumption), or it must be artificially inseminated from the age of 13 months onwards, or injected with bovine growth hormone."
"Dairy cows are not allowed to not be in lactation because then their milk production decreases and they do not produce enough milk to justify the cost of their board and lodgings. Therefore, cows are repeatedly raped and raped and raped … which Michael Eavis presumably thinks is a great way to make sentient beings happy."

"Does Michael Eavis at his Glastonbury Farm accommodate any cows at all that do not yield money his way? I doubt it. Off with their heads!
Does Michael Eavis care about the insane environmental damage caused by dairy farming? I doubt it. To hell with the environment! People who do not care about animal rights usually do not care about human rights. It naturally follows."

Morrissey also criticises Eavis for not allowing him to show scenes of torture during the singer's 2011 Glastonbury appearance. During the song Meat Is Murder, the ex-Smiths singer says the video screen remained blank, instead of showing the scenes of animal slaughter usually projected.

He ends the post with a challenge for music fans: "Animal rights is now the leading social justice issue on the planet. Your decision is whether you support either the butcher or the butchered. It cannot be both."

You can read the full piece here.