Morrissey Pays Tribute To Victoria Wood: "I Am Lost"
21 April 2016, 11:59 | Updated: 21 April 2016, 12:06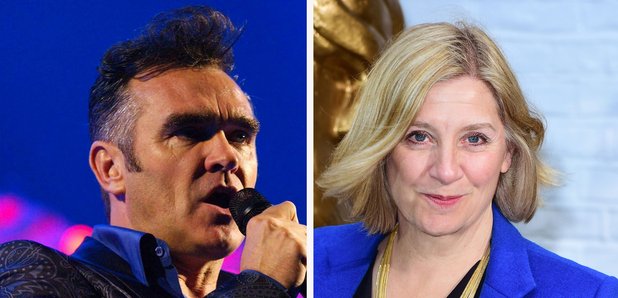 The former Smiths singer has written about his "dear friend," who lost her battle with cancer, aged 62.
Morrissey has paid tribute to Victoria Wood, following the sad news of her passing yesterday (20 April 2016).
Tributes flowed in for the actress and comedian who died, aged 62, after a short battle with cancer.
The Smiths singer added to the dedications yesterday, saying he was "lost" without his "dear friend".
Taking to fan site, true-to-you.net, he wrote: "Tears today for my dear friend Victoria Wood.
"So unbearable that it cannot be true.
"I am lost.
"Morrissey"
Morrissey and Wood's relationship started he watched her 1978 musical Talent.
The budding singer liked it so much, he used some of the same themes from Wood's song Fourteen Again in his own tune, Rusholme Ruffian on 1985's Meat Is Murder.
However, the pair didn't meet until 2013, during Wood's BBC Programme A Nice Cup Of Tea. In the clip below, Wood explains that The Smith's singer wrote a letter inviting her for a cuppa in 1990, so she was 22 year's late to finally meet him.
Watch the clip below: