Morrissey Slams Bank Of England Over New £5 Note
5 December 2016, 18:07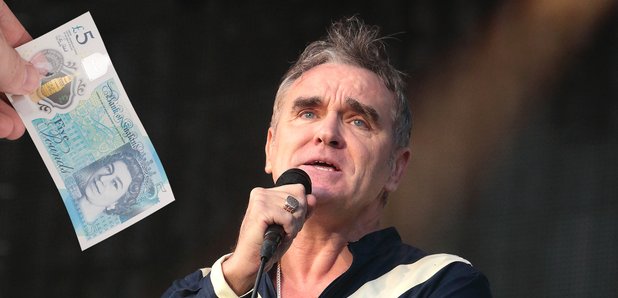 The Vegan rocker isn't happy about animal fat being used in the new polymer fivers.
Morrissey has slammed the new £5 note, following reports that it contains tallow, which comes from beef or mutton fat.
The former Smiths singer and famous vegan took to fan site true-to-you.net, to slam the new polymer notes, which he says are made of "sliced bodies".
In a post entitled, "UNITED KING-DUMB," the former Smiths frontman wrote: "If it had been revealed by the Bank of England that the new British Five Pound note contained slices of cat or dog, the country would be in an uproar.
"But because we have been trained to accept the vicious slaughter of cows, sheep and pigs, the UK media can only make light of the use of tallow in the new British fiver because animal slaughter is thought to be outside of the human grasp and concern."
Tackling those who don't find the use of animal fat offensive, the Meat Is Murder singer added: "If you feel that the use of animal flesh should not be a moral issue, then you should assert your conviction by donating your own body to the Bank Of England for decorative use in future five pound notes."
It's not the first time Morrissey has spoken up for animal rights, taking aim at the Royal Family this year due to their stance on hunting.