Morrissey forced to cancel another headlining slot
11 December 2017, 14:26 | Updated: 11 December 2017, 14:40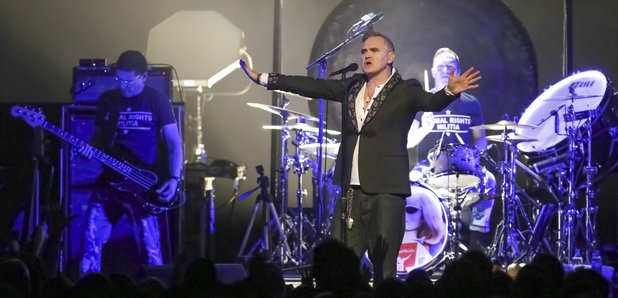 The former Smiths frontman has blamed "illness" for the cancellation.
The 'Everyday is Like Sunday' hitmaker axed his latest performance at the KROQ Almost Acoustic Christmas show in Los Angeles, which was due to take place last night (10.12.17), because of "illness".
A KROQ statement read: "It is with great regret that we must inform you that Morrissey's performance for Sunday night's show has been cancelled due to illness. Earlier this week the tour's performances in Philadelphia and Boston were also forced to be canceled, but it was hoped that conditions would improve for the KROQ Almost Acoustic Christmas performance to continue as scheduled. (sic)"
The statement added: "Morrissey's team and KROQ apologize greatly for this disappointment and Morrissey looks forward to making it up to the Los Angeles fans as soon as possible. (sic)"
Despite the news, The Killers softened the blow somewhat for fans of The Smiths frontman by performing the band's hit 'This Charming Man' at the event, which took place at The Forum.
Other groups who performed over the two-day spectacle - run by the Los Angeles radio station KROQ-FM - included Muse, Weezer, Queens of the Stone Age, Thirty Seconds to Mars and The Lumineers.
Morrissey's latest cancellation comes after he had to axe gigs in Philadelphia and Boston last week.
The annual KROQ-FM has also made headlines this weekend after Josh Homme from Queens Of The Stone Age kicked the camera of a female photographer during the band's set. Watch his apology below.