VIDEO: Remember The Time Victoria Wood Met Morrissey?
20 April 2016, 15:49 | Updated: 20 April 2018, 10:43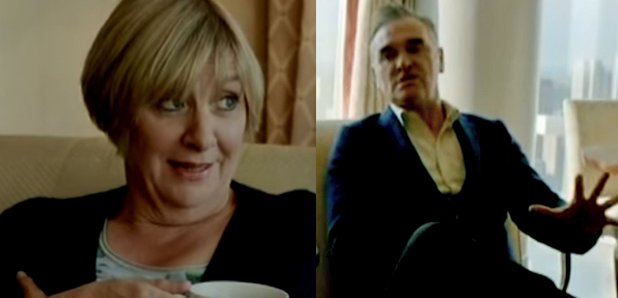 The much-loved British comedienne died on 20 April 2016. Let's look back at one of the stranger episodes of her career.
Her sketch show, Victoria Wood As Seen On TV, aired in the 1980s and spawned the parody of an awful soap opera, Acorn Antiques. Her comedy partnership with Julie Walters lasted from their university days until her acclaimed sitcom Dinnerladies, but there's one professional relationship that's not as well documented.
Back in 1978, Wood wrote a musical called Talent, which was staged at the Crucible Theatre in Sheffield. It was based on her own experience taking part in the TV talent show New Faces, which she'd won four years earlier. The play was later televised the following year on the Manchester station Granada and watching was a young Steven Patrick Morrissey.
The budding singer liked the musical so much, he used some of the same themes from Wood's song Fourteen Again in his own tune, Rusholme Ruffians, released on the Meat Is Murder album in 1985.
Sharing a Manchester background with Wood, Morrissey was so besotted with the comedian that he proposed to her through an interview with the press. She replied: "Morrissey and I have been married for 11 months, though due to touring commitments, we have yet to meet."
They finally DID meet - for the BBC programme, Victoria Wood's Nice Cup Of Tea, in 2013. Wood was looking for the secret of what made the perfect cuppa, and it's probably the most British clip you'll ever see. Victoria has brought Morrissey a tea cosy. It gets awkward.