Morrissey Hits Out At "Hate Piece" Article About Him
4 April 2018, 11:54 | Updated: 4 April 2018, 12:43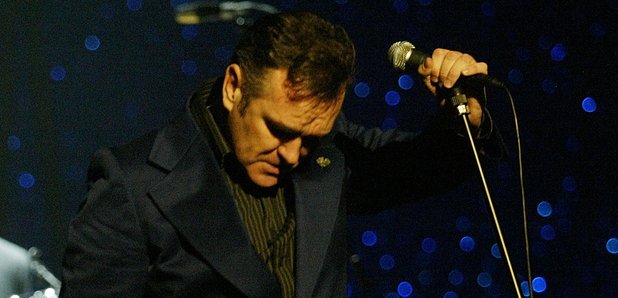 The former Smiths frontman has slammed an opinion piece which claims he loathes Nicola Sturgeon, supports Weinstein and is "loving Brexit".
Morrissey has hit out at recent article about him, calling it a "hate piece".
The former Smiths frontman took to newly launched website Morrissey Central to address a think piece in the Independent which carried the headline: This Charmless Man: How Morrissey's Big Mouth Struck Again … And Again.
In a post entitled Why The Independent Hates Independence, he began: "The importance of an artist (or political figure) is sometimes evident in the efforts taken to silence them. Two weeks ago, with stiff-backed priggishness, The Independent printed an extreme Hate Piece so loaded with vile bile that it almost choked on its own endless capacity to be appalled."
The Suedehead singer continued: "Their moral outrage is certain that it has hit upon something as they take a stab at just about everything whilst hitting nothing. Telford grooming gangs? Hardly worth a whisper in The Independent. Instead let's demonize Morrissey - who deserves our indefatigable abuse since he appears to be saying some things that many people are actually thinking."
Tackling the specific claims that he hates Nicola Sturgeon and loves Brexit, Morrissey wrote: "They tell their readers that I "loathe Nicola Sturgeon" (which is untrue), and they explain by way of sneering slur how I am "loving Brexit".
Photo credit: Kirsty O'Connor/PA Wire/PA Images
He added: "I believe I have mentioned Brexit twice in my entire life, and neither comment expressed love. I had explained how Brexit had been a strike for democracy because of the disgust that the political elite had shown towards the people who did not vote the way that they were warned to by media bullies."
The Low In High School star also denied that he supports Harvey Weinstein and added that he couldn't even recognise him in photographs.
Slamming the notion that his fans are deserting him, claiming that he has just completed his "most successful UK tour, selling 22,000 tickets in London alone, selling out concerts at Alexandra Palace, The London Palladium, Brixton Academy and The Royal Albert Hall, all played within the space of 8 days."
Watch Morrissey sing How Soon Is Now? at the Royal Albert Hall:
Morrissey went on to conclude: "In 1887 the masthead of The New York Times began its famous slogan: All The News That's Fit To Print.
"In 2018, The masthead of The Independent should read All The Shit That's Fit To Print. The Independent has tried to put me out of circulation: and viva hate, to that!
"Morrissey"
Photo credit: Karl Walter/Getty Images