Morrissey Sends First Tweets, Shares Spent The Day In Bed Single
19 September 2017, 10:00 | Updated: 20 September 2017, 11:35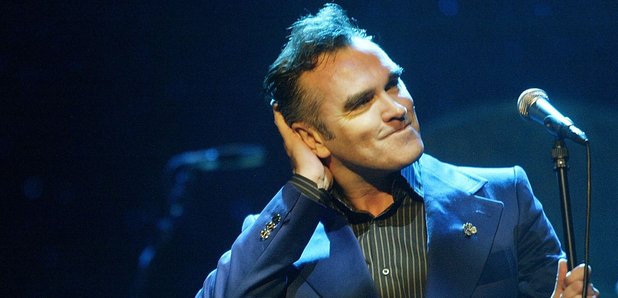 Listen to the first cut to come from his new album, Low In High School, which is set for release on 17 November.
Morrissey has shared new music.
After launching his new official Twitter account, the former Smiths frontman took to Twitter to write: "Spent the day in bed..." which is the title of his new track.
Spent the day in bed...

— Morrissey (@officialmoz) September 18, 2017
Watch the lyric video for the track here:
The tweet was followed by another more cryptic post, some fans identified as states of America, leading them to believe he was on the cusp of announcing a US tour.
OR WA CA AZ UT CO MO IL MI DC NY PA MA

— Morrissey (@officialmoz) September 19, 2017
Despite Morrissey only posting two tweets and following nobody, he's garnered over 47.8K followers so far.
As Pitchfork reports, Morrissey has also detailed the new album, sharing its tracklist below:
Low in High School:
1. My Love, I'd Do Anything for You
2. I Wish You Lonely
3. Jacky's Only Happy When She's Up on the Stage
4. Home Is a Question Mark
5. Spent the Day in Bed
6. I Bury the Living
7. In Your Lap
8. The Girl from Tel-Aviv Who Wouldn't Kneel
9. All the Young People Must Fall in Love
10. When You Open Up Your Legs
11. Who Will Protect Us From the Police?
12. Israel
The news of Mozza's new album hasn't gone by without any controversy, however, with HMV having to deny they were refusing to sell Morrissey's new album due to its artwork.
Taking to Twitter, the company wrote: "Contrary to reports, hmv have not refused to stock the new Morrissey album."
Contrary to reports, hmv have not refused to stock the new Morrissey album. Full comment below @NME @SPIN pic.twitter.com/ih2DE2ZP2s

— hmv (@hmvtweets) September 11, 2017
They continued: "BMG shared the artwork with us last week and we are looking forward to continuing to work with BMG on the forthcoming release.
"For the second time this year it appears Morrissey's camp have made a statement about hmv without being fully aware of the facts."
The statement follows the posting of the artwork by Morrissey's childhood friend James Maker, who claimed: "I publish this in support of a friend, and in the cause of democracy. Trade and Retail* have informed BMG that they will refuse to handle Morrissey's new album, 'Low in High School' on the grounds that the sleeve art is "offensive". Thus, the entire campaign is in jeopardy unless Morrissey and his record company rethink the album cover. x
(* The HMV chain refuse to stock it.)"
Maker also previously slammed Morrissey biopic, England Is Mine, as "historical fiction", writing in a now deleted post on his "Facebook page: "According to the trailer of 'England Is Mine', Morrissey was an autistic, retiring creature with both curly hair and a natural crimp, who had to be physically pushed into becoming a singer by a well-meaning friend (one who did not actually communicate with Morrissey throughout The Smiths' success)."
Watch the official trailer for the biopic here:
Photo credit: Getty/Karl Walter