So Morrissey Has A Twitter Account...
18 September 2017, 12:16 | Updated: 18 September 2017, 12:47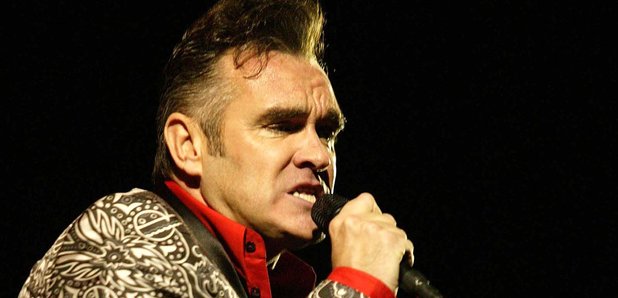 The former Smiths frontman appears to have a verified account on the social media platform.
Morrissey appears to have launched his own account on Twitter.
Liam Gallagher's status as one of the most outspoken rockers on the site could soon be under threat, as it looks like the former Smiths frontman has joined the social media site under the handle of @officialmoz.
And if that doesn't sound official enough, he also has a blue tick too.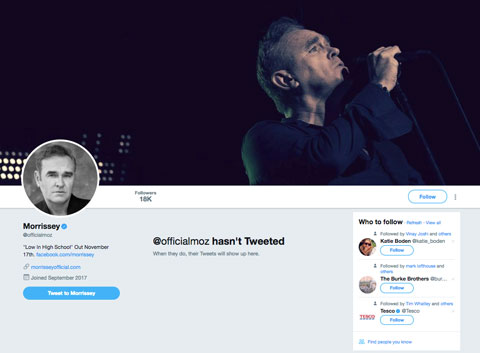 Credit: Twitter/officialmoz
Morrissey is usually known for sharing his thoughts and opinions via fansite true-to-you.net, and when an official Smiths Twitter account launched in 2016, he distanced himself from it, telling users: "follow it at your peril".
Perhaps the Suedehead singer has finally decided to join after recent events, which saw HMV deny they were refusing to sell his new Low In High School album due to its artwork.
Contrary to reports, hmv have not refused to stock the new Morrissey album. Full comment below @NME @SPIN pic.twitter.com/ih2DE2ZP2s

— hmv (@hmvtweets) September 11, 2017
It appeared to respond to Morrissey's childhood friend James Maker, who claimed on Facebook: "I publish this in support of a friend, and in the cause of democracy. Trade and Retail* have informed BMG that they will refuse to handle Morrissey's new album, 'Low in High School' on the grounds that the sleeve art is "offensive". Thus, the entire campaign is in jeopardy unless Morrissey and his record company rethink the album cover. x
(* The HMV chain refuse to stock it.)"
Maker previously slammed the Morrissey biopic - England Is Mine - as "historical fiction," writing on his "Facebook page: "According to the trailer of 'England Is Mine', Morrissey was an autistic, retiring creature with both curly hair and a natural crimp, who had to be physically pushed into becoming a singer by a well-meaning friend (one who did not actually communicate with Morrissey throughout The Smiths' success)."
Watch the official trailer for the film here:
Photo credit: PA/Suzan Moore/EMPICS Entertainment