Morrissey: "I Spearheaded The Movement" Towards Gender Fluidity
27 November 2017, 10:00 | Updated: 27 November 2017, 20:19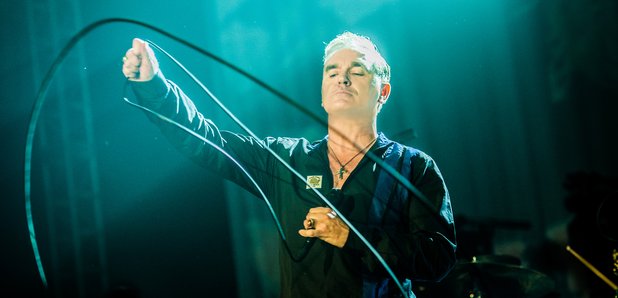 The Spent The Day In Bed singer says he's pleased that more people are able to be who they want to be.
Morrissey has credited himself has spearheading the movement towards sexual and gender fluidity.
The former Smiths frontman revealed he identified as humasexual - meaning he is attracted to "humans" - in 2013 and he thinks it is "extraordinary" the way people are no longer expected to label their sexuality.
Speaking to The Sunday Times magazine, he said: "It's extraordinary. People seem to be very relaxed by it...
"I spearheaded the movement. I know no other way, so nothing has changed for me, but the rest of the world leaps on.
"I am pleased because I want people to be happy. There is an expiration date on our lives on this planet. You have to be yourself and hopefully get some happiness from it.
"It seems everybody, in every respect of their lives, is coming out of their cupboard saying this is the person I'd like to be. I want to wear these clothes, not those that have been imposed on me. As long as nobody's harmed, I think it's good."
But the Spent the Day in Bed singer - who has previously only admitted to a two-year relationship with photographer Jake Walters - has never been on a "traditional date", though he's more interested in his career than having a personal life.
He told the outlet: "I've never been on a traditional date. I'm not that kind of person. But I'm happy with my vocation.
"I'm very interested in the singing voice. I'm very interested in making a difference in music, not simply being successful."
Asked if that means he doesn't think it's possible to do that and have a date, he replied: "No. I've never found it to be so. Well, life leads me. Does it lead you?"
Meanwhile, Morrissey added a fourth and final London date to his UK tour at London's O2 Academy Brixton, with tickets going on sale last Friday (24 November).
See Morrissey's full 2018 UK tour dates below:
16 February – Aberdeen, BHGE Arena
17 February – Glasgow, The SSE Hydro
20 February – Dublin, 3Arena
23 February – Newcastle, Metro Radio Arena
24 February – Leeds, First Direct Arena
27 February – Birmingham, Genting Arena
March 2018
1 March - London 02 Academy Brixton
3 March - Brighton, Brighton Centre SOLD OUT
7 March - London, Royal Albert Hall SOLD OUT
9 March – London, Alexandra Palace SOLD OUT
10 March – London, London Palladium SOLD OUT