HMV Deny Refusing To Sell Morrissey's New Album
11 September 2017, 16:51 | Updated: 11 September 2017, 17:49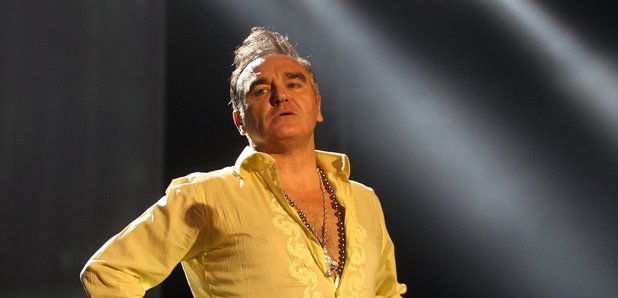 The music store has released a statement slamming reports that they won't stock his new Low In High School LP because of its artwork.
HMV has hit back at claims they've refused to stock Morrissey's new album, while confirming the artwork which previously surfaced.
Taking to Twitter, the company wrote: "Contrary to reports, hmv have not refused to stock the new Morrissey album."
Contrary to reports, hmv have not refused to stock the new Morrissey album. Full comment below @NME @SPIN pic.twitter.com/ih2DE2ZP2s

— hmv (@hmvtweets) September 11, 2017
They continued: "BMG shared the artwork with us last week and we are looking forward to continuing to work with BMG on the forthcoming release.
"For the second time this year it appears Morrissey's camp have made a statement about hmv without being fully aware of the facts."
The statement follows the posting of the artwork by Morrissey's childhood friend James Maker, who claimed: "I publish this in support of a friend, and in the cause of democracy. Trade and Retail* have informed BMG that they will refuse to handle Morrissey's new album, 'Low in High School' on the grounds that the sleeve art is "offensive". Thus, the entire campaign is in jeopardy unless Morrissey and his record company rethink the album cover. x
(* The HMV chain refuse to stock it.)"
Maker also previously slammed Morrissey biopic, England Is Mine, as "historical fiction", writing on his "Facebook page: "According to the trailer of 'England Is Mine', Morrissey was an autistic, retiring creature with both curly hair and a natural crimp, who had to be physically pushed into becoming a singer by a well-meaning friend (one who did not actually communicate with Morrissey throughout The Smiths' success)."
Watch the official trailer for the biopic here:
Photo credit: JF DIORIO/DPA/PA Images