Manic Street Preachers: Futurology's a bit overblown, but that's who we are
7 July 2014, 12:31 | Updated: 8 July 2014, 15:38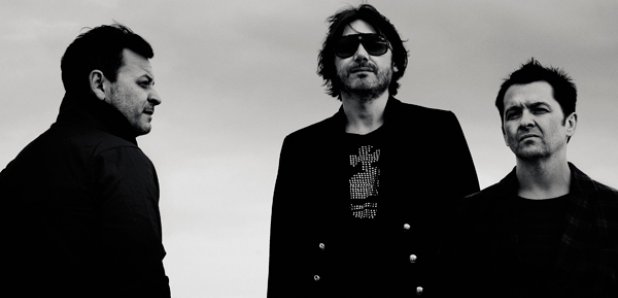 With their brand new album Futurology out today James Dean Bradfield has told Radio X it's inspired by time spent in Europe.
Futurology is the twelfth studio album from the long-serving trio, and in a chat with Danielle Perry on Radio X's The Evening Show, the frontman revealed that the tracks are a result of the time the band has spent touring the Continent over the last two decades.
"I think that taboo of imagery that goes past you when you're going over borders in Europe, you realise how much it's changed, before your eyes and you've lived through that... I also think Nick really kind of tapped back into his love of early European art."
The new offering from the Manics indulges modernist artists and theatrical works from the early 20th century, but James admitted to Danielle they did have a few reservations.
"It all sounds like an improbable subject matter for a song, and it sometimes sounds a bit pretentious and a bit overblown, but we kind of are. We were always trying to join the dots... trying to join the dots is kind of one of the most enjoyable things you do in a band."
Futurology, which features guests Green Gartside, Nina Hoss, Cian Ciaran and Cate Le Bon, was born out of the recording of previous album Rewind The Film, with many of the songs being laid down back in 2011.
"All the tracks were going in completely the opposite direction, so we sort of separated both albums at birth, without that actually being the plan," Bradfield admitted. "It is like a pretentious youth club feeling, abeit we were 45 years old... We are just enjoying ourselves."
FUTUROLOGY TRACK LISTING:
FUTUROLOGY
WALK ME TO THE BRIDGE
LET'S GO TO WAR
THE NEXT JET TO LEAVE MOSCOW
EUROPA GEHT DURCH MICH
DIVINE YOUTH
SEX, POWER, LOVE AND MONEY
DREAMING A CITY
BLACK SQUARE