ALBUM OF THE WEEK: Manic Street Preachers - The Holy Bible
Released the same day as Definitely Maybe by Oasis - 29 August 1994 - the third studio album from the Manic Street Preachers couldn't be more different than that landmark of Britpop.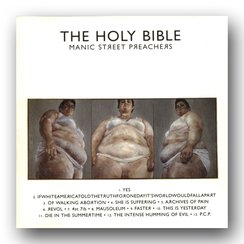 The last album to feature lyrics by original member Richey Edwards before his disappearance the following Spring, the record is bleak, uncompromising but ultimately uplifting in its treatment of various issues.

Recorded at a time when Edwards was battling depression and anorexia, The Holy Bible isn't an easy listen: titles like Archives Of Pain, The Intense Humming Of Evil and Die In The Summertime set the tone, while the track 4st 7lb opens with a sample of an anorexic describing their situation and includes the line "I wanna be so skinny that I rot from view."

The Holy Bible is a challenging listen, but marks the end of an era for the band and the start of another. They would never write music this raw again.

The 20th anniversary edition of The Holy Bible includse a 180gm remastered version of the album, plus four CDs: the remastered LP, the rare "US Mix" of the album, a collection of B-sides and a recording of the Manics live at London's Astoria in December 1994 - their last with Richey.

The live disc also features acoustic tracks recorded earlier this year by the BBC.

Also included is a 40-page book, including rare photos and imagery, handwritten lyrics and notes from Richey and much more.
WATCH OFFICIAL MUSIC VIDEOS
MANIC STREET PREACHERS - REVOL
MANIC STREET PREACHERS - THE HOLY BIBLE 20 DELUXE EDITION TRACK LISTING
Disc: 1
1. Yes
2. Ifwhiteamericatoldthetruthforonedayit'sworldwouldfallapart
3. Of Walking Abortion
4. She Is Suffering
5. Archives Of Pain
6. Revol
7. 4st 7lb
8. Mausoleum
9. Faster
10. This Is Yesterday
11. Die In The Summertime
12. The Intense Humming Of Evil
13. P.C.P.
14. The Intense Humming Of Evil - Live
15. 4st 7lb - Live
16. Yes - Live
17. Of Walking Abortion - Live


Disc: 2
1. Yes
2. Ifwhiteamericatoldthetruthforonedayit'sworldwouldfallapart
3. Of Walking Abortion
4. She Is Suffering
5. Archives Of Pain
6. Revol
7. 4st 7lb
8. Mausoleum
9. Faster
10. This Is Yesterday
11. Die In The Summertime
12. The Intense Humming Of Evil
13. P.C.P.
14. Die In The Summertime - Demo
15. Mausoleum - Demo
16. Of Walking Abortion - Radio 1 Evening Session
17. She Is Suffering - Radio 1 Evening Session
18. Yes - Radio 1 Evening Session


Disc: 3
1. Faster - Top Of The Pops
2. Faster - Butt Naked
3. P.C.P. - Butt Naked
4. She Is Suffering - Butt Naked
5. 4st 7lb - Mtv Most Wanted
6. She Is Suffering - Mtv Most Wanted
7. Faster - Glastonbury '94
8. P.C.P. - Glastonbury '94
9. Yes - Glastonbury '94
10. Revol - Reading '94
11. Faster - Us Video
12. Judge Yr'self - Video
13. Yes - New Film
14. Band Interview (30 Mins)
15. Faster (Hidden Video Extra)
16. Revol (Hidden Video Extra)
17. She Is Suffering (Hidden Video Extra)
DOWNLOAD THE ALBUM FROM ITUNES