The Libertines' Johnny Borrell Stories Are Absolutely Class...
31 August 2017, 14:07 | Updated: 1 September 2017, 18:35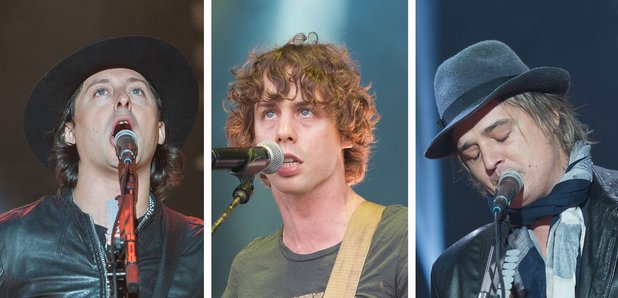 Pete Doherty and Carl Barat have shared their first memories of the Razorlight frontman and clarified whether he was ever in the band.
The Libertines have cleared up whether Johnny Borrell was ever a member of their band, and shared some tales about the Razorlight rocker.
As NME reports, in a new interview for Q Magazine, the rockers revealed that the Up All Night star may have let them down on more than one occasion.
Asked how he first met Borrell - who was firm friends with Libs' bassist John Hassall - Pete Doherty replied: "There was a wonderful pub called The Albion around Brick Lane way and it closed down. It did have an evil atmosphere, now and again.
"Johnny Borrell, evil incarnate, he saw me carrying the pub's sign home and said, 'where are you taking that?' I said, 'I've got to drag it all the way to Whitechapel,' so he said 'no, leave it at mine'.
"He'd bought this swanky new hipster place on Brick Lane, so I did. I came back the next day in my van and I don't know what he'd done with it because it wasn't there and neither was he! I'm not slagging Johnny Borrell off though. It was probably a different Johnny Borrell."
Watch Razorlight's In The Morning video:
Though it's rumoured that Borrell played bass with the rockers in the late 90s, Carl Barat maintained he was "never in The Libertines," and suggested the story originates from a time the Golden Touch singer played two rehearsals with the band with the intention standing in for one of their gigs.
"We told him we were right up shit creek and if he was going to help us out [and play bass at a show], then it would be amazing," Doherty explained. "But if you say you're going to do it, do it. Don't phone from Cardiff, two minutes before the gig, saying you're living the dream with Alabama 3."
Barat added: "Exactly. If you don't pop your cherry and you don't do the gig, you're not in the band."
So there you have it. According to The Libertines, Johnny Borrell stole a pub sign off Pete Doherty and let the band down when he was supposed to play a gig with them at the last minute.
Meanwhile, The Libertines will embark on very special dates next month, playing seaside venues on their "Tiddeley Om Pom Pom Tour".
The tour will come after a heavy summer of festival appearances for the band including Tramlines Festival (21-23 July), Truck Festival (21-23 July), Newcastle - Live from Times Square (3 August) and On Blackheath (10 September).
Watch Jeremy Corbyn gatecrash The Libertines' gig Tranmere Rovers F.C:
See their full dates below:
22 September Empress Ballroom, Blackpool
23 September Hull Arena
25 September Plymouth Pavilions
26 September Scarborough Spa
30 September Claremont Pier, Lowestoft
1 October By The Sea Festival, Margate
2 October Brighton Centre