The Libertines to play Alexandra Palace shows
7 July 2014, 11:37 | Updated: 4 November 2014, 00:26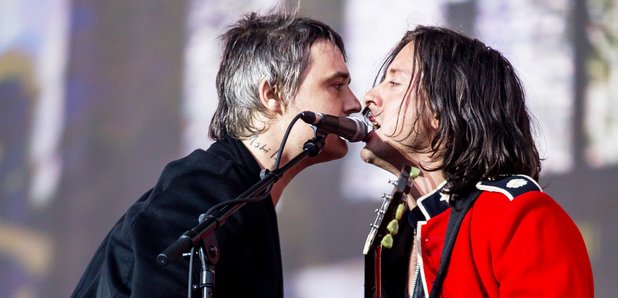 The band are to follow up their recent Hyde Park and Glasgow dates with three shows at the end of September.
The Libertines will play Alexandra Palace in North London on 26, 27, 28 September. Tickets are on sale now.

The announcement of the shows came during their headline appearance at Barclaycard British Summer Time in Hyde Park last night (5 July).

Kicking off with Vertigo - the opening track from their debut album, Up The Bracket - the show had to be stopped halfway through the second song, Boys In The Band, after the crowd surged forward and some audience members had to be taken out across the barriers.

The show was stopped again for the same reason three songs later, during Time For Heroes. The set also included a Pete and Carl version of the Babyshambles song Albion, before climaxing with the classic I Get Along.
THE LIBERTINES HYDE PARK SHOW SETLIST:
Vertigo
Boys in the Band
The Delaney
Campaign of Hate
Time for Heroes
Horrorshow
Begging
The Ha Ha Wall
Music When the Lights Go Out
What Katie Did
The Boy Looked at Johnny
Can't Stand Me Now
Last Post on the Bugle
Love on the Dole
The Saga
Death on the Stairs
Radio America
Don't Look Back Into the Sun
Tell the King
Up the Bracket
What a Waster
France
Albion
I Get Along