The Libertines: "The New Album Will Be More Laid-Back"
14 July 2015, 10:29 | Updated: 14 July 2015, 18:19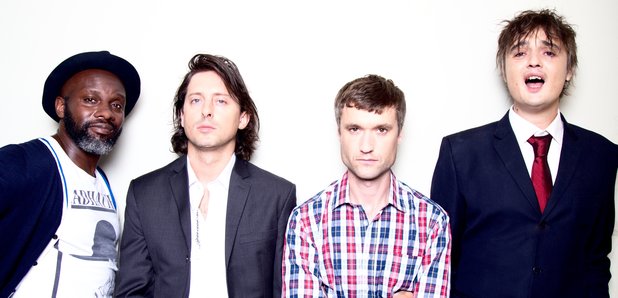 The band were talking to Radio X at this year's T In The Park Festival when they revealed some new details about the forthcoming album Anthems For Doomed Youth.
The Libertines have revealed details about their new album. Speaking with Radio X at T In The Park, Pete Doherty said "[the new album] is a fair old mix. There're more laid-back rock n' roll songs - more melodic. With a couple of balls out rock n' roll numbers."
You can listen to the full interview below.
The Libertines recently shared the first new track from their new album, called Gunga Din. It's a classic Libertines tune with a 2015 spin. You can listen to it above.
You can listen to Gunga Din below.
On July 2nd the band announced details about their eagerly anticipated third album. The record, which will be the band's first in eleven years, will be entitled Anthems For Doomed Youth. It is scheduled for release in September.
The new LP follows previous releases Up The Bracket (2002) and the eponymous The Libertines (2004).
The band took to Facebook last night to confirm the news, writing "Dearest one and all, the day has finally arrived, to announce the unveiling of the new Libertines record - "Anthems For Doomed Youth". We do so with the utmost pride and jubilation. She (the record) will be available on the 4th of September. We would encourage you to pre-order downloads, live on iTunes at http://po.st/AFDYfbP, in the spirit of our times."
"There will of course be special limited edition box sets and vinyls available for the more discerning from 9AM IN THE MORNING via www.thelibertines.com, with many an extra Arcadian flourish. Don't miss 'em!"
You can see the Facebook post below.
Anthems For Doomed Youth will be officially released on September 4th. You can see the full track listing below.
Music For Doomed Youth track listing:
Barbarians
Gunga Din
Fame and Fortune
Anthem for Doomed Youth
Heart of the Matter
Belly of the Beast
Iceman
You're My Waterloo
Fury of Chonburi
The Milkman's Horse
Glasgow Coma Scale Blues
Dead for Love