The Libertines Cover Amy Winehouse, The Strokes And The Clash At Surprise London Gig
29 July 2015, 12:12 | Updated: 30 July 2015, 12:38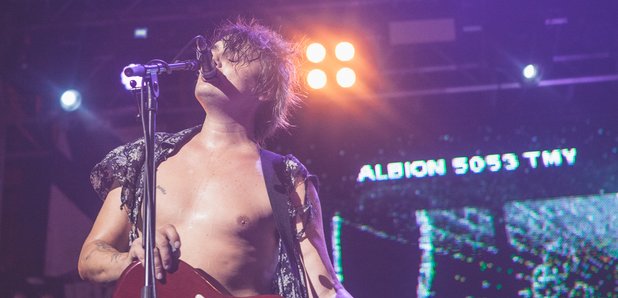 The band also covered The Stones Roses and Chas & Dave during a secret set at Camden Barfly to just a few hundred people.
The Libertines played a surprise set last in North London last night (July 28th) to one of their smallest crowds in ten years. The event took place at Camden's Blue's Kitchen just after 10pm in front of roughly 250 people.
As well as tearing through classic Libertines tracks like What Katie Did and Can't Stand Me Now, the four piece also performed a handful of covers; including Amy Winehouse's Tears Dry On Their Own, I Wanna Be Adored by The Stones Roses and Rudi Can't Fail by The Clash. They also took on Someday by The Strokes and, bizarrely, I Think We're Alone Now by Tiffany.
The Libertines finished the evening with an accapella version of Chas & Dave's Knees Up Mother Brown.
During the show, Pete Doherty announced to the crowd that it had always been Carl Barat's "dream" to crowdsurf to the bar and return with a drink, something Barat carried out with great enthusiasm.
News of the show was spread via word of mouth and the band's Instagram page. You can see their post below.
Pete Doherty took to the stage at Camden's Dublin Castle shortly before the surprise show at the Blue's Kitchen, to perform Babyshambles' track Albion with Carl Barat.
The Libertines recently announced details to release their first album in eleven years, entitled Anthems For Doomed Youth. The record is released on September 4th. They're headlining the Reading and Leeds festival at the end of the month.