Carl Barat explains week-long Libertines "shenanigans"
29 August 2015, 14:18 | Updated: 29 August 2015, 19:03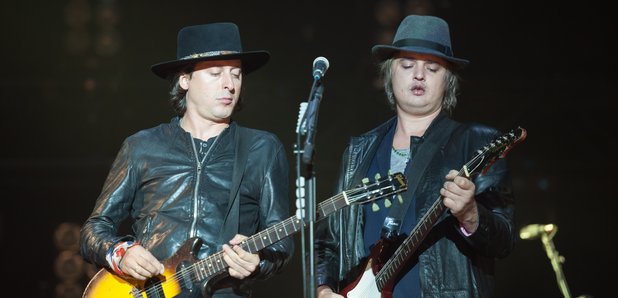 The band - who headline Reading and Leeds festivals this weekend - have been adding more detail to the Camden pop-up festival that's launching their new album, Anthems For Doomed Youth.
The Somewhere Over The Railings events have been taking place in North London since last Monday (24 August) at a venue called The Bucket Shop next door to the famous Dublin Castle pub.

There will be a photo exhibition, a pub quiz, an album playback and a special event on the day of the LP's release. Overwhelming demand for the "week of shenanigans" led to the event being extended to Friday 11 September, the day Anthems For Doomed Youth is unleashed.

Speaking to us backstage at Leeds Festival last night (28 August), Carl Barat explained:

"I actually, rather regrettably, came up with the word "shenanigans". We originally wrote a really corporate press release and I was supposed to un-corporate-ise it. Then Pete's job was to 'un-corporate-ise' the next one and no-one understood what the fuck it said!"

"But yeah, it's things we love in the places we love. I fancy the pub quiz. It'd be a bit weird if it's about us, though. It isn't about us, is it? It is! I might finally win a pub quiz then!"

Drummer Gary Powell added: "I'm hoping people will buy some stuff. I've got a corner in the bucket shop for my record label, so there's gonna be merchandise: jackets, t-shirts, records…"

Barat chipped in: "I've got a corner of mugs that I didn't sell on my solo tour! At knock down prices! Old t-shirts, you're gonna love it…"

Anthems For Doomed Youth is released on 11 September.