What Liam Gallagher Says He Has In Common With Elvis...
13 January 2018, 08:00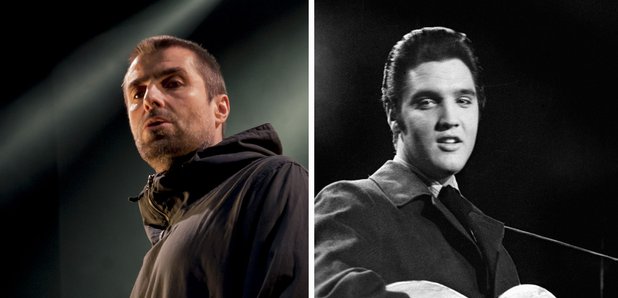 Find out why the Wall Of Glass singer compares himself to The King Of Rock 'N' Roll.
Liam Gallagher has compared his singing ability to Elvis Presley.
The 45-year-old rocker thinks that he's similar to The King Of Rock 'N' Roll, because he makes "something else" out of other people's songs.
As reported by BANG Showbiz, speaking in this month's Q Magazine, he said: "There's been a smoke bomb gone off, and everyone's been blinded by what's gone down and the smoke's cleared and yours fucking truly is in the middle going, 'Come on, you shits.'
"I know for a fact that he [Noel] is not a frontman. I'm not a songwriter. He's not meant to be in the middle of that fucking stage. I'm meant to be centre-stage and no one can touch me.
"I've been singing other people's lyrics my whole life and I own them. Once I get hold of them, I make them something else, like Elvis."
It's not the first time the former Oasis frontman has compared himself to the late icon.
Last June, when talking about his Wall Of Glass video, he said: "I did get to wear a gold Saint Laurent hooded jacket in one scene, which I convinced myself made me look like a modern day Elvis, as he loved to wear gold suits."
Liam also told the outlet that he thinks Noel is "desperate" for Oasis to reunite, but his wife Sara MacDonald won't let him.
Watch Liam talk about what an Oasis reunion would mean to him:
The For What It's Worth singer previously said he doesn't need Oasis to get back together because he now gets a huge "rush" from his solo gigs.
He admitted to News Corp Australia: "We should never have split (Oasis) up but I'm arsed if the band gets back together now because I'm getting that rush I wasn't getting in Beady Eye because we weren't doing the songs.
"Now we are doing these gigs and some of them on this tour have been like old Oasis gigs. Obviously I miss my brother being there and miss the other lads ... but I'm coming off the stage and I've been floored like I was in Oasis."
Watch this baby's adorable reaction to Liam Gallagher, via BethOddy91: