Why The Top Albums Of 2017 Will Probably Make Liam Gallagher Smile...
3 January 2018, 15:51 | Updated: 3 January 2018, 16:41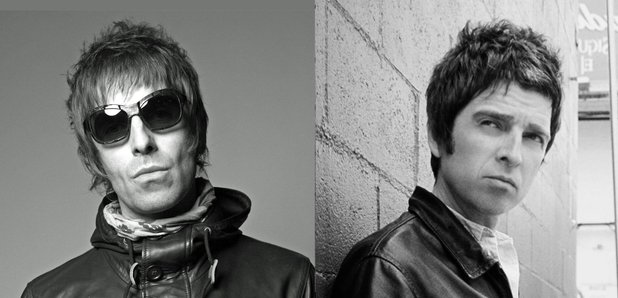 The Top 40 British albums of the last year have been unveiled, and the Wall of Glass singer has reached higher than his brother Noel.
The biggest-selling albums of 2017 have been revealed, with Ed Sheeran's ÷ (Divide) making the top spot.
The list - which was compiled of album sales and streams throughout the year by Official Charts - saw the singer-songwriter's third studio album by Rag'n'Bone Man's Human LP.
Though Liam Gallagher's might already be pretty chuffed about the fact his debut solo effort, As You Were, made the Top 10 overall, he's no doubt positively gleaming about the fact it outsold his brother's third studio effort.
While As You Were scored ninth place on the list, Noel's Who Built The Moon? trailed 10 positions behind in 19th place. Something tells us Noel might not let it get to him, however, since Liam's album had a seven week head start to accumulate sales.
Plus Who Built The Moon? did score Noel his 10th UK No.1 album overall.
Elsewhere on the combined chart were Foo Fighters' Concrete And Gold in at No. 32, Royal Blood's How Did We Get So Dark at No. 39 and Kasabian's For Crying Out Loud at No. 40.
Not content to take the top spot, Ed Sheeran's x (Multiply) and + (Add) albums, also featured in this year's list charting at 6 and 16 respectively.
See the full Top 40, which combines sales and streaming equivalent sales below:
1. ÷ - ED SHEERAN
2. HUMAN - RAG'N'BONE MAN
3. THE THRILL OF IT ALL - SAM SMITH
4. GLORY DAYS - LITTLE MIX
5. BEAUTIFUL TRAUMA- PINK
6. X - ED SHEERAN
7. TOGETHER AGAIN - MICHAEL BALL & ALFIE BOE
8. MORE LIFE - DRAKE
9. AS YOU WERE - LIAM GALLAGHER
10. GANG SIGNS & PRAYER - STORMZY
11. A LOVE SO BEAUTIFUL - ROY ORBISON
12. MOANA - MOTION PICTURE CAST RECORDING
13. WONDERLAND - TAKE THAT
14. THE ARCHITECT - PALOMA FAITH
15. REPUTATION TAYLOR SWIFT
16. ED SHEERAN
17. LISTEN WITHOUT PREJUDICE - VOL 1 GEORGE MICHAEL
18. 25 - ADELE
19. WHO BUILT THE MOON? - NOEL GALLAGHER'S HIGH FLYING BIRDS
20. REVIVAL - EMINEM
21. NAT KING COLE & ME - GREGORY PORTER
22. HARRY STYLES - HARRY STYLES
23. TROLLS - MOTION PICTURE CAST RECORDING
24. CHRISTMAS - MICHAEL BUBLE
25. 24K MAGIC - BRUNO MARS
26. STARBOY - THE WEEKND
27. DAMN.- KENDRICK LAMAR
28. TWENTY FIVE - GEORGE MICHAEL
29. DIAMONDS - ELTON JOHN
30. LADIES & GENTLEMEN - THE BEST OF GEORGE MICHAEL
31. SGT PEPPER'S LONELY HEARTS CLUB BAND - BEATLES
32. CONCRETE AND GOLD - FOO FIGHTERS
33. TRUTH IS A BEAUTIFUL THING - LONDON GRAMMAR
34. CURTAIN CALL - THE HITS - EMINEM
35. TIME FLIES - 1994-2009 OASIS
36. LA LA LAND - MOTION PICTURE CAST RECORDING
37. CHRISTMAS WITH ELVIS AND THE RPO ELVIS PRESLEY
38. LEGEND - BOB MARLEY & THE WAILERS
39. HOW DID WE GET SO DARK? - ROYAL BLOOD
40. FOR CRYING OUT LOUD - KASABIAN