Signed Liam Gallagher Guitar Stolen From Partially-Blind Pensioner
20 November 2017, 13:37 | Updated: 20 November 2017, 15:30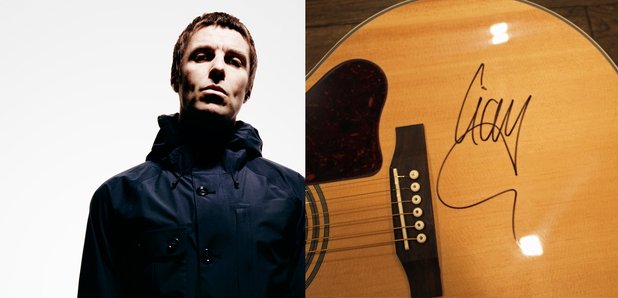 The instrument, which was part of a competition for Radio X's Make Some Noise charity, was among the items taken from the 71-year-old's home.
A signed guitar given to Radio X by Liam Gallagher for charity has been stolen from a partially-blind elderly woman's home.
The offenders broke into the 71-year-old's property in Birmingham stealing the Epiphone EJ 200 guitar, which was among five up for grabs in aid of Global's Make Some Noise charity this year.
As BBC reports, PC Ed Morgan from West Midlands Police said: "This is a despicable crime against an elderly blind woman".
He added: "We're appealing for anyone who is offered this item, or has any information about what happened, to come forward as soon as possible".
See our video of the item ahead of its auction in October:
Officers said the thieves - who also stole a 4K smart TV and a 55-inch Polaroid Series - entered the house by removing a panel from a rear UPVC door and made their escape the same way.
Global's Make Some Noise supports small projects across the UK which help youngsters and their families living with illness, disability or lack of opportunity.
Liam Gallagher's Epiphone EJ 200 helped raise thousands of pounds for the charity alongside signed guitars from Noel Gallagher, Richard Ashcroft, Kasabian and Foo Fighters.
Anyone who has any information should contact West Midlands Police and Crime Stoppers UK.