PHOTOS: The Pretty Green X The Beatles Collab Is Out Now
30 August 2017, 13:54 | Updated: 30 August 2017, 17:57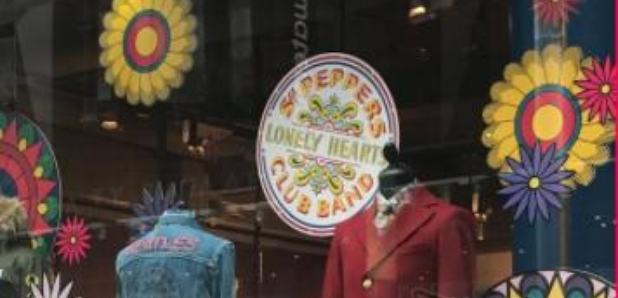 See some of the new Sgt. Pepper's-inspired garments from Liam Gallagher's Pretty Green label.
Earlier this year, it was announced that Pretty Green would be launching a clothing line inspired by Liam Gallagher's favourite band, The Beatles.
Celebrating 50 years since the release of The Fab Four's 1967 seminal album, Sgt. Pepper's Lonely Hearts Club Band, the collection promised to be available in-stores and online by Autumn 2017.
Now, we can confirm the garments are available, with a launch party taking place in The Beatles' hometown of Liverpool last week.
Check out this sweater and trousers combo:
Feast your eyes on The Lonely Hearts Club denim jacket from the front:
... And back:
This t-shirt, which features the Sgt. Pepper's Lonely Hearts Club album artwork, has been "hand drawn in-house".
See the piece de resistance of the collection, which is the Lonely Hearts Club Parka, below:
Check out the garments in all their glory in Pretty Green's video:
And, despite it still being summer, it looks like fans are still flocking to grab the heavy jacket.
To be fair, she may actually need it sooner rather than later...
Meanwhile, Liam Gallagher is fresh from his performances at Reading & Leeds Festival 2017.
The Wall Of Glass singer, who continues his European tour dates next month, has expressed his desire to attend We Are Manchester, despite the fact he has a gig in Spain on the same day.
Gallagher did make a surprise appearance at One Love Manchester-Ariana Grande's benefit concert, which helped raise 18.m for the victims of the Manchester Arena terror attack.
Watch him perform Live Forever with Coldplay's Chris Martin:
Lead photo: Instagram/prettygreenltd