Why Liam Gallagher Nicked Pete Doherty's Bassist...
13 July 2017, 16:15 | Updated: 13 July 2017, 18:08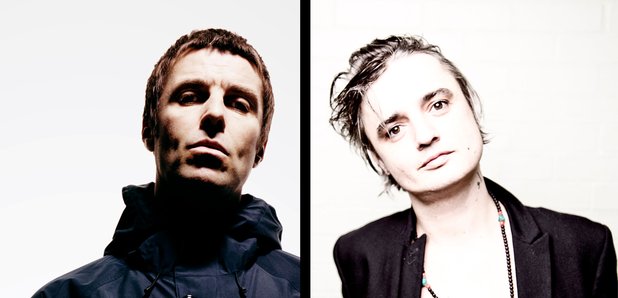 The Wall Of Glass singer has revealed what impressed him about Babyshambles' Drew McConnell and recalled the first time he met Pete Doherty.
Liam Gallagher says he recruited Pete Doherty's bassist Drew McConnell because he's "f***ing talented".
The former Oasis frontman said he knew the 38-year-old musician would be a perfect fit for his band because he has to have been "pretty headstrong" to be in Babyshambles with The Libertines frontman.
Speaking to NME, the Wall Of Glass singer explained: "I'd never met Drew before and you know - he's f***ing talented. He's played with The La's, Drew, so he's obviously talented. To keep the f***ing Babyshambles thing going he's gotta be pretty headstrong, you know what I mean."
"I met him and he seemed cool," said Gallagher of their first meeting. "He's been very f***ing laid back. There's been no like 'look, you's lot - do ya f***ing thing, here's your numbers, go and f***ing do it'."
Watch Liam Gallagher and his band play his first ever solo gig at Manchester's O2 Ritz:
Pete Doherty first confirmed the 44-year-old rocker had stolen Drew from him, reportedly telling the Daily Star newspaper: "Stressification on the band front, Drew playing bass guitar for Liam Gallagher's new tour."
The rockers have been at loggerheads for years, despite only meeting once according to Gallagher.
He said: "No, I've only met him once, but that was years ago at the Forum when he was with ... what are they called.. fucking, Libertines. It was just 'hello, you're really tall and that'. He looked like my mic stand."
The pair have another person in common as they both have children by 90s indie rocker Lisa Moorish. The Live Forever hitmaker has 19-year-old daughter Molly with the former Kill City singer and Pete has 13-year-old son Astile.
They have feuded several times over the years, one of the most notable though was At V Festival in 2005.
Liam labelled the Babyshambles star "one big c***" on stage after he didn't turn up for his support slot with Oasis at the Rose Bowl in Southampton, South West England.
He said on stage at the event held in Chelmsford, Essex: "It's good to see Pete Doherty turned up. One big c***."
This year, Liam Gallagher's festival stints have gone swimmingly so far, with the rocker set to play Benicassim Festival this weekend.
His Glastonbury 2017 slot saw him break away from tradition to play Don't Look Back In Anger for the very first time, as a tribute to the victims of the London and Manchester terror attack and the Grenfell Tower fires.
See him sing the track below:
It may have been the only time he's ever performed the Noel Gallagher-penned and sung track, but this teacher wasn't exactly a captive audience member, using the rocker's set to get in some much needed marking.
Watch our video courtesy of Chris Longman below: