WATCH: Liam Gallagher Consoled Gareth Southgate After Euro '96
21 March 2017, 10:36 | Updated: 21 March 2017, 17:49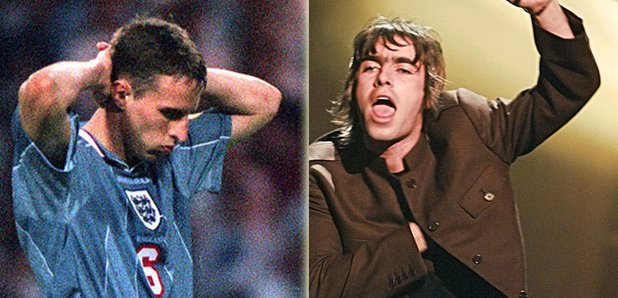 Find out about the Oasis man's pep talk to the footballer straight after England's match against Germany.
Whether or not you're a football fan, everyone can remember the moment Gareth Southgate missed a penalty during England's Euro '96 semi-final match against Germany.
No one was more devastated than the England footballer, who looked utterly inconsolable on the pitch. But, according to a new story by ex-Aston Villa man Andy Townsend, one of the first people to console him was none other than Liam Gallagher.
Find out what he said here:
When Gareth Southgate missed THAT penalty at Euro 96, one of the first people to console him that night was...

Oasis' @liamgallagher ?!! pic.twitter.com/2Z7HyYu71z

— BBC 5 live Sport (@5liveSport) March 20, 2017
Speaking on 5Live, Townsend recalled: "I was commentating funnily enough (that's how old I am) when he missed his pen in Euro '96. He was a teammate at mine from Villa, so of course after that game having missed a penalty like that I was gutted for him that I thought I'd go down and find him"
He added: "When he finally came in, I was only going to say 'look better than you have missed them in that position, so don't worry about it, it's done'
"And as I went to say it Liam Gallagher appeared from nowhere and he says: 'Hey Gareth, "Don't *beep* worry about it because at least you had the *beep* to go out and take it. Them other *beep* they didn't wanna *beep* know.'"
Classic.
Meanwhile, over 20 years on, Liam Gallagher is preparing to release his debut solo record and is still as outspoken as ever.
This week, the Supersonic rocker threw down the gauntlet again, slamming his brother Noel as fake and vowing to sing Don't Look Back In Anger "better" than him.