WATCH: Liam Gallagher Says Chris Martin Is Cool & Coldplay Sound "F***ing Good"
6 June 2017, 10:00 | Updated: 6 June 2017, 10:19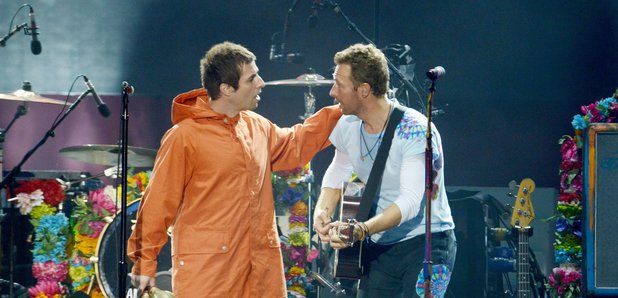 The Oasis legend has said in a new interview that he "takes everything back" he ever said about the band.
Liam Gallagher has done a u-turn on Coldplay and described their frontman as "cool".
Watch this video via Oasis Mania Official and 3FM Extra:
Speaking about his One Love Manchester appearance during an interview at The Netherlands' Pink Pop festival, he said: "They've never sounded so good have they, Coldplay?
"I was like that: 'Fucking hell you sound good man. I take back everything I've ever said about you. You sound fucking really good.'"
Asked if there was a risk he'd now be closely affiliated with the band, the Wall Of Glass singer replied: "I don't mind. Listen man. They're all right man. Chris is cool."
The rocker has previously be quoted slamming Chris Martin and the band, saying: ""That lot are just a bunch of knobhead students – Chris Martin looks like a geography teacher. What's all that with writing messages about Free Trade on his hand when he's playing. If he wants to write things down I'll give him a pen and a pad of paper. Bunch of students."
Liam Gallagher made a surprise appearance at the One Love Manchester benefit concert on Sunday (4 June).
However, it was the solo Liam Gallagher that appeared onstage at the Emirates Old Trafford, opening with a version of the first track on the first Oasis album: Rock 'N' Roll Star.
He then performed his debut solo single, Wall Of Glass, before being joined onstage by Coldplay's Chris Martin, who accompanied the singer on guitar for a stunning version of the Oasis classic Live Forever.
Introducing the track, Gallagher said: "Now I wanna dedicate this next song to the beautiful people who were killed and injured in the Manchester terror attack."