Liam Gallagher Wants To Team Up With The Stone Roses
12 September 2017, 10:00 | Updated: 12 September 2017, 17:36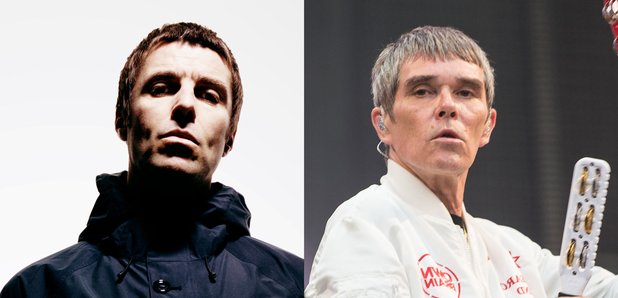 The former Oasis frontman, who's preparing to release his debut solo album next month, also has Richard Ashcroft on his wish list.
Liam Gallagher is keen to collaborate with The Stone Roses.
The 44-year-old singer is, who is set to release his debut solo album As You Were on 6 October, admits he would "much prefer" to be in a band or partner up with his fellow Mancunians.
Speaking to Consequence Of Sound about his career, he said: "Anyone that would be in a supergroup or that would have anything to do with a supergroup are all solo. There's far too many solo stars out there for my liking and not enough bands. I'm doing this cause I have to. I'd much prefer to be in a band.
"The ideal ones would be the guys out of The Stone Roses. I think they just split up, so that would be good. [Richard] Ashcroft would be good. There's a lot of people out there, but the majority of them are all doing their own thing. But, if they want to do one, give us a shout. I'll do it."
Watch Liam Gallagher sing Live Forever with Coldplay's Chris Martin on guitar:
Although the Wonderwall singer is open to collaborating with fellow musicians, he won't go through with any partnerships if he isn't singing.
He explained: "But, I'd have to be the singer. I'm down with it, but I'm not going to f**king stand there and do tambourine. I need to be on the f***ing mic, man."
Now Liam has left Oasis following his feud with his brother and fellow band member, Noel, he plans to simply "enjoy" his career and live "in the moment", because he feels time has passed him by.
He added: "But one record at a time, man. That's one thing I've learned over the last 20 years -- to f**king enjoy it and be in the moment. The last couple things, I got caught up in the bubble, and it just passes you by, and you go, 'Well, what the f**k happened there?' So, this time, one record at a time, and I guess we'll see how it goes. You got to live in the now, man, cause it's precious. As you get older, every day is f**kin'... You gotta wear it, you know what I mean? Thinking about the future, f**k that shit.
"I'm feeling good about it, so we'll see what happens at the end of the tour."
Meanwhile, Liam Gallagher is set to embark on on a UK tour, where he's promised his fans a Oasis-heavy set.
Every single oasis song that I sang is potentially on the set list for December tour as you fucking were LG x

— Liam Gallagher (@liamgallagher) August 31, 2017
While we know this would be impossible to fulfil as it would probably leave the rocker playing a 4 hour set, it does suggest we can expect more Oasis bangers we haven't heard performed in a while.
Watch Liam perform one song you probably won't be hearing on his tour, Don't Look Back In Anger:
The rocker has also added a Newcastle date to his UK tour, while updating his Northern Irish date from Belfast's Ulster Hall to the SSE Arena.
SEE LIAM GALLAGHER'S FULL DATES BELOW:
30 October – Belfast, The SSE Arena
1 November - Newcastle Metro Radio Arena

3 December – Leeds, First Direct Arena
4 December – Glasgow, The SSE Hydro
6 December – Plymouth, Pavilions
7 December – London, Alexandra Palace
10 December – Nottingham, Motorpoint Arena
12 December – Birmingham, Arena
13 December – Cardiff, Motorpoint Arena
14 December – Brighton, Centre
16 December – Manchester, Arena
Find out what happened when Chris Moyles met Liam Gallagher: