Liam Gallagher On 2017 UK Tour: "I Will Not Let You Down"
4 October 2017, 18:23 | Updated: 4 October 2017, 18:31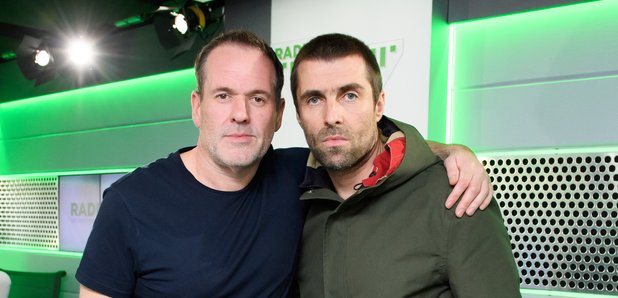 Watch as the rocker tells Radio X's Chris Moyles what fans can expect on his As You Were tour dates.
Liam Gallagher has assured his fans that his forthcoming As You Were tour will be one to remember.
Asked about his first ever string of arena dates as a solo artist this year, the rocker said to Chris Moyles: "Can't wait for that man, and thank you to all the people who bought the tickets. Blown me away."
The Wall Of Glass singer added: "I will not let you down, man. I am gonna shake you all night long. Believe."
Watch our video above.
Meanwhile, the former Oasis singer also revealed in the Radio X studio that there isn't a a day when he's not thinking about his former band.
Watch him explain all below:
Talking about his For What It's Worth single, the Manchester rocker said: "I reckon that's the most Oasis-y kind of song on the album, you know what I mean?
"You know, I'm proud to be in Oasis, I love Oasis, still do - not a day that goes by without thinking of it, you know what I mean? So it's good to be making music of that calibre."
After debuting his I've All I Need track exclusively to Radio X, the Rock & Roll star revealed some of its lyrics were inspired by none other than Yoko Ono.
Find out why here:
"I can tell you an interesting fact," teased Gallagher. There's a line in there that says 'I hibernate and sing/While gathering my wings'.
"I was over in New York once, and I got a call saying, 'Yoko wants to meet you,' and I'd just called my kid Lennon," recalled the Oasis man.
"We go in there. In the kitchen she invites me in, makes me a cup of tea and she's got this massive banner around the kitchen and I said, 'What does that mean?'
"She goes, 'Ah John asked the same question when we went to Japan to meet the parents.' Anyway it says, While i've been hibernating I've been gathering my wings. And it was when he'd stopped making music. So I thought, 'Write that down.'"
The rocker added: "Anyway, so years go by and I've been trying to get that into a song and could never get it in. And then it happened on that."
Liam Gallagher's As You Were album is set for release on Friday 6 October.
SEE LIAM GALLAGHER'S FULL DATES BELOW:
30 October – Belfast, The SSE Arena
1 November - Newcastle Metro Radio Arena

3 December – Leeds, First Direct Arena
4 December – Glasgow, The SSE Hydro
6 December – Plymouth, Pavilions
7 December – London, Alexandra Palace
10 December – Nottingham, Motorpoint Arena
12 December – Birmingham, Arena
13 December – Cardiff, Motorpoint Arena
14 December – Brighton, Centre
16 December – Manchester, Arena