Liam Gallagher Did A Reddit Q&A And It Was Epic...
10 October 2017, 13:42 | Updated: 10 October 2017, 17:54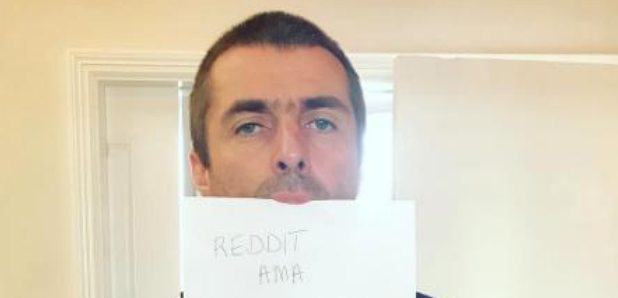 Find out what happened when the For What It's Worth singer told his fans to ask him anything.
Liam Gallagher invited fans to ask him questions on Reddit this Monday (9 October), and they responded in their droves.
Taking to the social aggregator and forum, the former Oasis frontman teased the "AMA," writing: "I am Liam Gallagher. And you are not".

He followed it up, by providing "proof" in an Instagram picture, which he captioned: "TODAY @REDDIT AMA
9.30PM BST / 1.30PM PST".
What followed were some of the most random and hilarious questions ever, and some of the most classic answers.
See them here:
If You Could Open For One Band? The Rolling Stones

What do you miss about Manchester? My mam

What's more important the shoes or the jacket? The shoes

Favourite Drink: Alcohol

What's it going to say on your tombstone? AS YOU WERE

Favourite Song Ever: Imagine

Favourite Sport: Boxing

What do you want for Christmas? a splash of Tourettes you f*cking cunt

What song do you usually sing in the shower? The birdie song

Jam or marmalade? Marmalade

What moment from your career are you most proudest of? This is my proudest moment in my musical journey

Do you still make your own tea? God no..

What's your favourite jacket? jacket potato

If you could have been a fly on the wall for one moment in history – which moment would it be? The moment john lennon went up in a helicopter with the maharishi

''Who built the moon?'' Keith

What's the definitive Oasis line-up? bonehead guiggs and alan white. Obviously me and Noel

Which language would you like to speak? I would love to speak French

Would you make a second solo album? Yes why the hell not

What's your take on Holy Mountain? Sleep is one hell of a band.

What should I name my first born child? Sue

How do you like your potatoes? I Like them roasted

Favourite tea and biscuit? Rich tea - stone cold classic and yorkshire tea

Best meal you can cook? cereal

Who's got the best elbows you've ever seen? Debbie Gwyther.. She has 3

Reading or Leeds? BOTH

What's your favorite type of book or material to read? don't read books, i only read minds

How much marching powder had gone up your nose before the Norton interview? i dont do cocaine before a performance smart ass. i wait until afterwards

Most memorable gig? Stone roses Blackpool

What's your current favourite clothing brand besides your own? Engineered Garments

What needs to happen before you place a saxophone track on your next album? I'll need tohave shit in my ears for that to happen

Which song do you enjoy performing live the most? Live Forever

What's your favourite alcoholic drink? tequila

What would be your last meal? an egg

What's currently your favourite song? Greedy Soul

Who is your favourite wrestler? big daddy. Old Skool

Who is one band that you'd love to open for? The Rolling Stones

Are you a breasts, legs or arse man? partial to the odd elbow

Who's your favourite Man City player at the moment? Sergio Aguero

You ever find the guy who took your sunglasses? i did

What's your favourite song off the new album? greedy soul for me

Did you have any inspirations for the new album? id love to do an out and out punk rock Pistols album

If yer going for a meal deal what's your choice? Quarter Pounder and Cheese Meal. Large. BBQ sauce

If you could have a lifetime supply of any beer, which brand would you choose? Guinness

The Stone Roses or The Beatles? ts gotta be the Beatles as they have more tunes

Is there one song you wish you had written or sang on? Bold as Love - Hendrix

What was the first band you were into after you were hit on the head with the hammer? Bucks Fizz

What do you listen to in the car? Classical music

Favourite shoes brands? Clarks Originals - i'm after a pair of Clark's ramblers in a size 9 so if you have some please send them my way

Who is your favourite rapper? Will Smith

Favourite pair of adidas trainers? Adidas Kick

What does Peggy think of the new songs? Peggy loves all the songs - especially Greedy Soul

If you could replace any actor in a film or tv series who would you pick and in what? Jimmy = Quadrophenia

Did you really get Bonehead pissed before recording Bonehead's Bank Holiday? Bonehead was always pissed

Favourite Pink Floyd tune? Shine on you crazy diamond

Noel has seriously lost the plot hasn´t he? yes

Do you have a favourite jacket to wear on stage? yes - my Stone ISland shadow project hood smock - they are thin

Sun or snow? I like both

What is your favorite food? A good old Sunday Roast

Whatsapp Ricky or Skepta? Skepta

toast or cereal? toast

Keith Moon or John Bonham and why? Keith Moon

Who's your favourite current City player? Who's your favourite ever? sergio Aguero and Mike Summerby

If you were entering the ring what would be your entrance music? LL COOL J Mama said knock you out

Favourite Stones song? jumpin jack flash

What's it like being a twat? you tell me.

What is your favorite sandwich? ham salad sandwich

What do you pour into the bowl first: The cereal or the milk? CEREAL every time

Red sauce or brown sauce on a bacon sandwich? Both red and brown

Whats the setlist for the tour? tune after tune after tune after TUUNE
Meanwhile, the Official Charts Company have revealed Gallagher's As You Were album is outselling the rest of the Top 20 altogether.
As it stands, his debut solo record is said to be in "pole position," and "currently outselling the rest of the Top 20 combined with 79,000 units sold and streamed."
Watch Liam Gallagher describe each track on his debut album:
Watch him talk about his upcoming UK tour:
Photo credit: Instagram/Liam Gallagher