Looks Like Liam And Noel Gallagher's Children Are Feuding...
21 September 2017, 10:00 | Updated: 21 September 2017, 18:18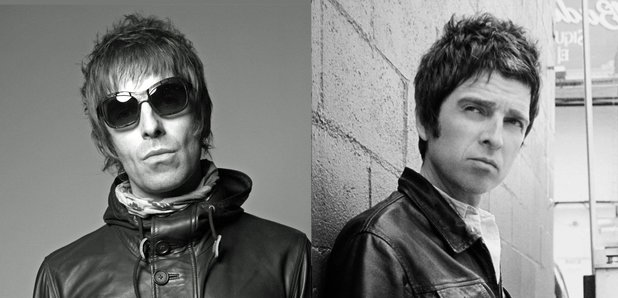 Gene Gallagher has appeared to claim his cousin Anaïs looks like her dad Noel with "a blonde wig".
For anyone out there still holding out for an Oasis reunion, you might want to abandon all hope now.
Liam and Noel Gallagher have known to be estranged for many years, but now a feud seems to have erupted between their children.
As Metro reports, Liam's son Gene - who he shares with ex-wife Nicole Appleton - has appeared to take to Twitter to slam his cousin Anaïs, writing in a now deleted tweet: "Firstly, u look like ur dad w a blonde wig on...
"Secondly, u model coz u look like ur dad not coz of who u are nobody care who u are lmao".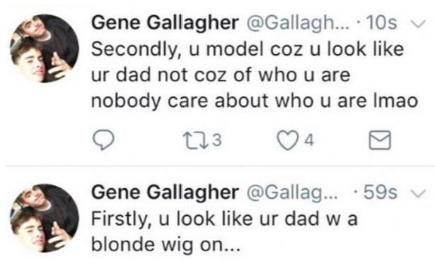 After he deleted his Tweets, he appeared to still hit out at his cousin, suggesting whoever chose her to model for Tommy Hilfiger should go to Specsavers.
Whoever got to chose who got to model for Tommy Hilfiger is a complete doughnut who should go spec-savers

— Gene Gallagher (@Gallagher_Gene_) September 19, 2017
What's most shocking is that Gene's tirade comes after he posed for a snap with his cousin two weeks ago.
Anaïs, the 17-year-old model and daughter of Noel Gallagher took to Instagram to share the post alongside the caption: "Big up that fam love".
While it's unclear what's transpired between Anaïs and Gene in such a short space of time, it's definitely not going to do anything for their fathers' hopes of reconciliation.
Asked about the possibility about a reunion, Liam told Radio X's Chris Moyles: "It's not about the money, it's more about me and our kid coming to a sense where we actually fucking like each other again. And at the moment we're very two different people."
Watch the outspoken rocker tell Chris Moyles what an Oasis reunion would mean to him:
Meanwhile,Noel performed at We Are Manchester on Saturday (9 September), which saw the Manchester Arena re-open its doors following May's horrific terror attack.
Noel appeared to get emotional during his rendition of Don't Look Back In Anger, but he later revealed exclusively to Radio X that he wasn't actually crying.
Watch our video below:
"I wasn't actually crying," he told Chris Moyles. "I actually promised myself before I went on, 'cause you kinda got to detach yourself from it 'cause it's very easy to kinda get caught up in the moment. And when you see other people crying and people in the stands and that..."
He added: "I read somewhere that I was crying, but I'm sorry to say I wasn't crying."