Bonehead Joins Liam Gallagher For Manchester Show
18 December 2017, 07:02 | Updated: 18 December 2017, 12:07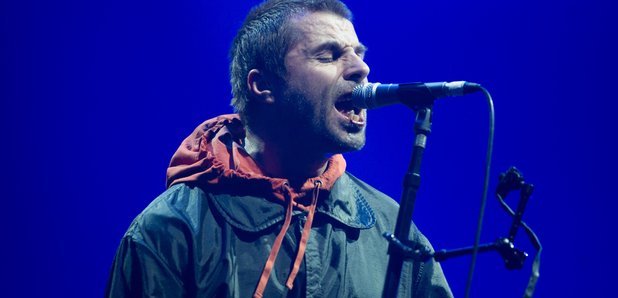 The singer's triumphant homecoming gig also paid tribute to the victims of the Manchester attack…
Liam Gallagher performed with his former Oasis bandmate Paul 'Bonehead' Arthurs at his hometown show at the Manchester Arena on Saturday night (16 December).

The legendary group's former frontman wrapped up his UK headline solo tour, in support of his debut LP As You Were, by bringing out the 52-year-old guitarist at Manchester Arena for the encore of Cigarettes And Alcohol, Wonderwall and an acoustic rendition of Live Forever.
As Liam sang the 1994 Oasis classic, the screens in Manchester Arena displayed a bee symbol and the number 22 - denoting the number of people who died following a terror attack on the venue in May, during an Ariana Grande show.
Bonehead's appearance was no doubt a surprise as the night before the concert, Liam tweeted a fan to say the 52-year-old musician is "too old" for rock 'n' roll and has bad hearing.
In response to a follower who posted, "Get Arthurs onstage with you again", Liam replied: "He's too old for all this RnR he's deaf as well"
Having Bonehead on stage brings the tour full circle as the original Oasis member played Be Here Now with Liam, 45, at his debut solo gig at Manchester's O2 Ritz venue in May.
The pair were reunited back in October 2013 when Bonehead joined Liam and his former band Beady Eye to perform at the A Night For Jon Brookes tribute concert at The Royal Albert Hall, organised by The Charlatans to pay tribute to their late drummer.
Liam Gallagher Manchester Arena setlist:
Rock 'n' Roll Star
Morning Glory
Greedy Soul
Wall of Glass
Paper Crown
Bold
For What It's Worth
Rockin' Chair
Some Might Say
Slide Away
D'You Know What I Mean?
I'm Outta Time
Come Back to Me
You Better Run
Universal Gleam
Supersonic
Be Here Now
Encore:
Cigarettes & Alcohol
Wonderwall
Live Forever