Serge Kasabian Talks Nirvana Tribute At Reading & Leeds
27 August 2017, 14:03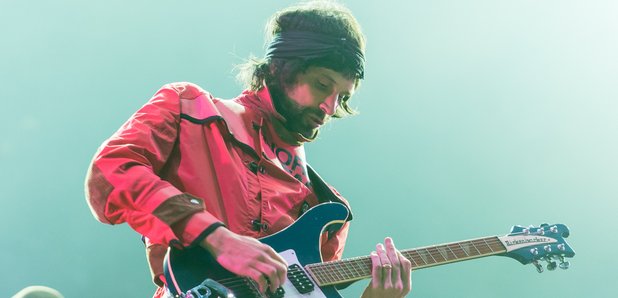 The guitarist also explains why he's taking part in the forthcoming Game4Grenfell charity match.
Serge Pizzorno has been telling Radio X that Kasabian's cover of Nirvana's All Apologies at Reading and Leeds festivals this weekend turned into a "bigger deal" than they expected.
The 1993 song was made famous when it was performed in the famous MTV Unplugged session and with this weekend marking 25 years since the grunge band's final UK performance at Reading Festival, Serge thought the time was right.
Watch it here, in a video uploaded to YouTube by jagostar1:
"We've always played it in rehearsals," Serge told Radio X's Sunta Templeton backstage at Leeds Festival, "and obviously it's 25 years since Nirvana played Reading. Foolishly, it's become a lot bigger deal than I thought. Afterwards, I thought, fuck we just did that!"
He went on: "I felt onstage there was a moment, when you feel that shiver. It was really beautiful. Then we went to LSF and it felt like the whole crowd were on shoulders, so it was amazing."
Serge's next big gig is on Saturday 2 September, when he takes part in Game4Grenfell, a charity football match at Queen's Park Rangers' Loftus Road ground, to support the victims of the Grenfell Fire and their wider community.
#Game4Grenfell will see the likes of Peter Crouch, Richard Ashcroft, Jarvis Cocker and Marcus Mumford join Serge to play a 90-minute-match just a mile away from the North Kensington tower block.
The event is the brainchild of QPR Chairman Tony Fernandes, Director of Football Les Ferdinand and Columbia Records' Ferdy Unger-Hamilton.
Serge explains: "Our chairman is one of the organisers and got in touch, We said of course, anything we can do. Chris (Edwards, Kasabian bassist) is playing too. It's the first big event that's been done since that horrendous night and it should be an entertaining game.
"I'm sure you will be able to see the tower from the ground. In a small way we want to do anything we can do to help."
For more information, see www.game4grenfell.com Johnny Vaughan's The Kickabout will be coming LIVE from Loftus Road on the day - more details to come!
Photo: Jon Mo