Watch Kasabian Dance In You're In Love With A Psycho Video
30 March 2017, 11:41 | Updated: 30 March 2017, 11:49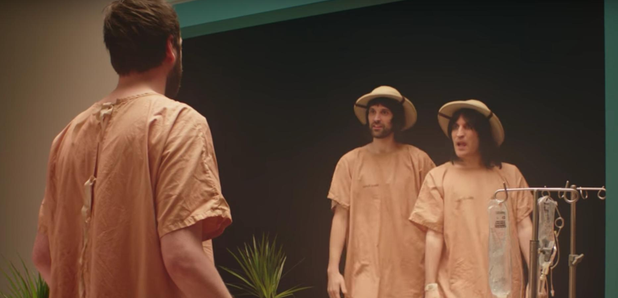 Noel Fielding and Stephen Graham join the band for their One Flew Over The Cuckoo's Nest-inspired promo.
Kasabian have unleashed the video to their You're In Love With A Psycho single.
The promo sees the band joined by Noel Fielding and Kasabian's for an epic dance off in a One Flew Over The Cuckoo's Nest-inspired facility.
Watch it here:
You're In Love With A Psycho Is The First Track to be taken from their For Crying Out Loud album, which is set for release on 28 April 2017.
Speaking about the new album, Serge Pizzorno told Radio X: "It's a real feel-good record. Positive get up and go innit."
He added: "It's an album full of hope, when there's not a lot of it going around."
The Leicester outfit have also announced eight intimate UK shows across April, including three dates at The O2 Forum, Kentish Town.
Pre-order For Crying Out Loud now for access to exclusive gigs! Out 28th April https://t.co/n31q0hlOW4 #ForCryingOutLoud pic.twitter.com/NPb9QfOn8f

— KasabianHQ (@KasabianHQ) March 17, 2017
In a cruel twist of fate, the band's beloved Leicester happen to be playing a Champions League match on 18 April, but it seems they've already hatched a plan.
Watch our video from 1:21 to find out their Eez-Eh plan for not missing either of them:
Talking about finding out about Leicester's upcoming match against Atlético Madrid, frontman Tom Meighan told Radio X's Johnny Vaughan: "Last night we were going mad weren't we?"
Serge Pizzorno explained: "Soon as we got through, the diary's the first port of call and we're definitely going to go on late.
"We'll go on after the game, so if you're coming to that show and it goes into extra time we won't go on until it's over."
Photo: YouTube/KasabianVEVO