This Is The Story Behind Kasabian's Album Cover...
24 April 2017, 16:45 | Updated: 24 April 2017, 18:10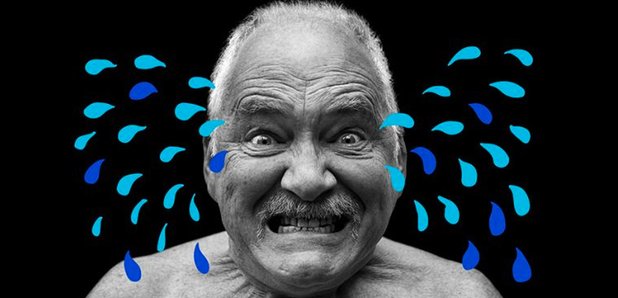 Serge Pizzorno has explained the artwork for their For Crying Out Loud LP, which is set for release on 5 May 2017.
Kasabian have explained the meaning behind the cover of their forthcoming For Crying Out Loud album.
Speaking to NME, Serge Pizzorno revealed that their sixth studio LP - which sees a grimacing older man with tears spurting from his eyes - actually features their long-time roadie.
"It's a picture of our roadie Rick Graham, he's been with us about 12 or 13 years," explained the guitarist. "He says 'for crying out loud' quite a lot".
"He's got stories from back in the day," added the Eez-Eh rocker. "He's seen it all and been round the world more times than anyone. I really wanted to immortalise him."
Pizzorno added: "I was watching this Francis Bacon interview and he said he only drew people that he knew because he knew their faces. This is our way of letting people into our world. I love the idea that there's this 70-year old man on our record, there's something beautiful about it.
"He said 'it'll never happen because the label won't allow it'…As soon as the label are like 'oh, we're not sure' then you know it's great and it's going to work."
Meanwhile, Kasabian are playing live dates across the UK as they prepare to release their album on 5 May.
Speaking about recording the LP, frontman Tom Meighan revealed how it made him "better" after a "shit year," which included splitting from his long-term partner.
Speaking to The Sun, Meighan - who shares four-year-old daughter Mimi Malone with his ex - admitted: "I had a s*** year. But sometimes s*** happens in life. You have to face the devil.
"It was just a moment in life and I'll look at it and think, 'Yes, that was s***'. But I've turned the corner. Now things couldn't be better."