Serge Pizzorno Prepped For Glasto In The Least Rock 'N' Roll Way Ever...
7 August 2017, 17:26 | Updated: 7 August 2017, 18:03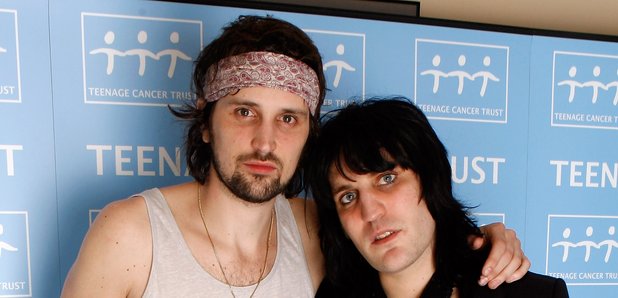 The Kasabian rocker recalled the unconventional way he prepared for their 2014 set, which involved his good mate Noel Fielding.
Serge Pizzorno's pre-show ritual at Glastonbury 2014 involved listening to an audiobook with Noel Fielding.
Kasabian headlined the Pyramid Stage at the festival three years ago, and the guitarist has revealed beforehand he relaxed to the 1889 Jerome K. Jerome novel Three Men in a Boat.
Revealing how he got hyped up for the big gig, Serge told DIY: "Before we went on, me and Noel [Fielding] were listening to Three Men In A Boat on an audiobook. "Imagine that? We were lying down in the bunks [of the tour bus], f***ing crying with laughter.
"I had my phone in the middle and we were lying next to each other, going 'this is f***ing great'. Just mellowing out."
He added: "You wanna be still. Like Elvis with black leather over the windows so it's as dark as possible.
"Then an hour before the gig, it's like 'BAM'. Right. F***ing pupils like that. Eyes open. Ready."
Watch Serge and Tom from Kasabian perform a stripped-back version of L.S.F at St. Laurence's Church In Reading:
Meanwhile, as Noel Fielding gears up for his new gig as a co-presenter of Channel 4's Great British Bake Off, he's been forced to take to Twitter to clear up reports over whether he'll be eating cake on the programme.
As The Independent reports, The Sunday Times quoted the Mighty Boosh star as saying: "I get more work when I'm thinner," adding: "So I can't put on weight. No one likes a tubby gut is what I'm saying."
This didn't go down well with die-hard Bake Off fans, but Fielding soon set the record straight, writing: "What I actually said (as a joke) in the Sunday Times was "nobody likes a tubby goth" I was taking the piss out of myself. I love cake x"
What I actually said (as a joke) in the Sunday Times was "nobody likes a tubby goth" I was taking the piss out of myself. I love cake x

— noel fielding (@noelfielding11) August 6, 2017
See the first advert for the new look baking competition, which will air on Channel 4 for the first time this autumn: