Serge Pizzorno On Tom Meighan: "He's The Realest F***ing Man There Is"
13 March 2017, 12:36 | Updated: 13 March 2017, 17:45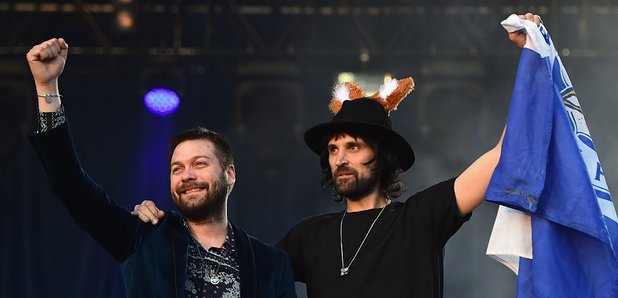 The Eez Eh-rocker said fans connect to Kasabian because the frontman's "heart is on his sleeve".
Serge Pizzorno says people connect with Kasabian because frontman Tom Meighan opens his "heart" on stage.
The Kasabian guitarist and songwriter told Q magazine: "Tom's heart is on his sleeve and he can get hurt, because he's so open. That's why people relate to him. He can stand in front of a hundred thousand people and they come away feeling not so alone, they've connected with this man who can show them their pain and their euphoria.
"It's powerful do you know what I mean? We're real. Especially Tom. He's the realest f***ing man there is. You can slag that off if you want but he's more real than I'll ever be."
Tom, also 36, admits that he had to learn to "grow up" over the last 12 months to dig himself out of a hole.
He revealed: "Life's about learning. I have to take care of myself now and stop f**king around and get my head out of the clouds and f**king grow up. And that's what I did. It's about not being out of control."
Serge said that Tom needed to sort himself out to be able to cope with the "mad job" that is fronting a rock band.
He said: "Tom had to grow up. You can go one of two ways. You either go insane, or you sort yourself out. The thing is, with this mad … job, you can do whatever you want. Because people let you. As long as the machine keeps going."
Tom admitted 2016 was a year he'd rather forget - unlike Serge, whose favourite soccer side Leicester City won the English Premier League.
He said: "In every way, 2016 was great for Serge, great for Leicester City, s**t for me.
"I had to sort my head out. My attitude. Stuff I was doing. People I was associating with. Not bad people.
"I was the one that was bad, I was in the haze. I was very unhappy, just down. You block it out by just carrying on."