Serge Pizzorno Wants To Work With Eminem
15 August 2017, 17:26 | Updated: 23 August 2017, 12:05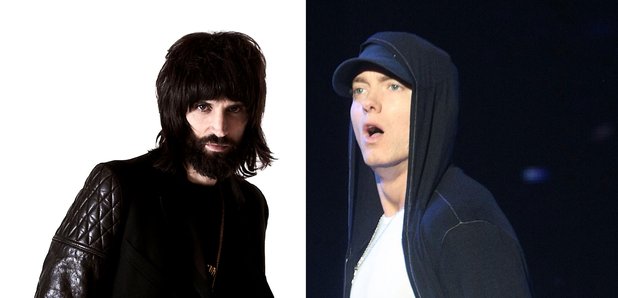 Kasabian have praised their fellow Reading & Leeds headliners, calling Eminem "incredible" and Muse "juggernauts".
Kasabian want to collaborate with Eminem.
The Fire outfit will be headlining Reading and Leeds Festival later this month along with Muse and the U.S. rapper, and Serge Pizzorno has revealed they'd love to work with them both.
"One day, I'd love to work with Eminem," the guitarist told NME. "I've got bags full that are perfect for him. He's such an incredible artist. His flow is just... f**k man.
"That first album for me is massive."
He added: "Muse are just a juggernaut, aren't they?
"I have so much respect for those boys as just unbelievable musicians. All of them just play the s**t out of it.
"It's great to see a virtuoso guitar player. They're the real deal."
Hear about Muse's worst gig experience:
Frontman Tom Meighan also shared the same views as the guitarist and said both acts are "f**king amazing".
"They're both f**king amazing," gushed the Eez-Eh rocker. They're giants. Muse are a f**king amazing live band and just really nice guys, I've got a lot of time for them.
"Eminem is just a f**king genius. He's probably the best rapper on the planet. He's so clever. I think Eminem would dig us. I dig Marshall. He's the Elvis of rap music."
On August Bank Holiday Weekend, the band will perform at the festival for the second time and said they don't bother with extravagant gigs because the crowd "make it".
Serge said: "It's always a temptation - but our show is 'the moment'. It's the crowd that make it and what the music does.
"We don't need bells and whistles - we could do it with one light."
Reading and Leeds Festival will also see Bastille, Major Lazer, Liam Gallagher, Two Door Cinema Club, You Me At Six and many more perform over the weekend.
See Kasabian's Tom and Serge perform a stripped back version of Stevie at their Reading & Leeds warm at St Laurence's church: