Kasabian Unveil New Album
8 June 2011, 10:51 | Updated: 28 August 2013, 17:26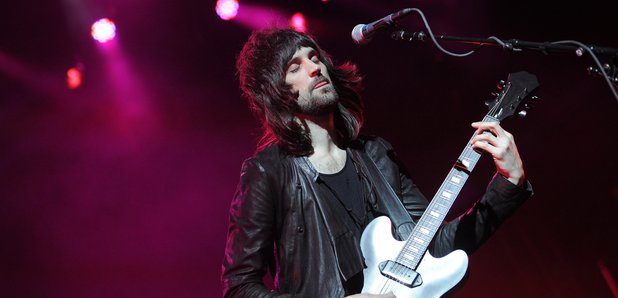 'Velociraptor' is due out September 19.
Radio X got a first taste of the band's fourth album when Steve Harris played the track 'Switchblade Smile' on the O2 Evening Show last night (June 7).
Sergio Pizzorno wrote and produced the album and told Radio X for the first single he "wanted a song that sounded like the inner mechanism in a machine-gun. I wanted a sound like energy and chaos."
He continued, "I got the title off of a Morgan Freeman interview who said when he was younger girls said he had a "switchblade smile" and I though "I like that I'm gonna use that". Something sinister and you're attracted to these people but you know deep down they're just wrong 'uns."
'Velociraptor!' - the follow up to 2007's 'West Ryder Pauper Lunatic Asylum' - was recorded in Leicester and mixed in San Francisco.
The guitarist told Radio X he's been having a really creative 12 months.
"Even the greatest writers of time will say no one has the answer, there's no secret code, you've got to wait for that transmission put your antenna up and just pray. It's like going fishing, you've just got to pray for a bite because some days it just doesn't happen. So when they come you've just got to get them out."
Kasabian headline RockNess this Saturday and are closing this year's Isle of Wight Festival on Sunday, a departure from the usual heritage act.
Serge told us fans can expect to hear the new material at their summer shows.
The track-listing for 'Velociraptor!':
Let's Roll Just Like We Used To
Days Are Forgotten
Goodbye Kiss
La Fée Verte
Velociraptor!
Acid Turkish Bath (Shelter From the Storm)
I Hear Voices
Re-wired
Man of Simple Pleasures
Switchblade Smiles
Neon Neon
Serge from Kasabian on 'Velociraptor!'