Kasabian's Tom Meighan Talks Running Over His Dad
14 July 2017, 13:03 | Updated: 11 January 2018, 13:07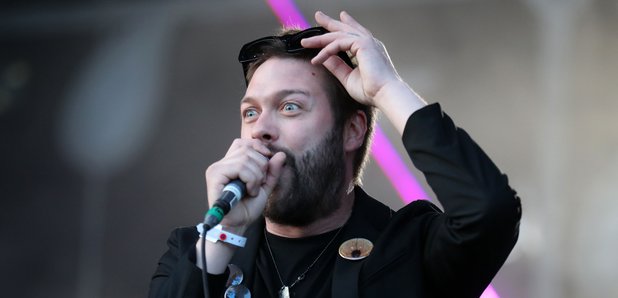 The Eez-Eh frontman re-lived the gruesome moment he accidentally hospitalised his father.
Tom Meighan has recalled the time he ran over his dad before he got his driving license.
As reported by NME, the Kasabian frontman spoke about the accident in Q Magazine, which left his father hospitalised in 2014.
"Do you know what, he was quite calm about it," said the Club Foot singer. "He called me a dickhead and that was it."

He added: "Afterwards I went, 'Dad, I'm sorry'. He just said 'son, you're a fucking dickhead'."
Guitarist and songsmith Serge Pizzorno chimed in: "Obviously at the time it was horrendous, but it's not until you get asked a question about it that you realise what a funny story it is."
Back in 2014, Tom Meighan told The Mirror the "freak accident" was "the worst day of (his) life".
He told the outlet: "I can drive but it was in an automatic car. It was too fast. It was a real shock at the time… We have laughed about it now and that's all you can do. I'm very close to my dad. He's a very amazing person to have around, so that happening was awful."

Kasabian are set to headline Benicassim this Sunday (16 July), before playing Reading & Leeds This Year.
To celebrate their headline slot at the twin festivals, the Underdog outfit played an intimate acoustic gig at St. Laurence's Church in Reading last month.
Watch them perform You're In Love With A Psycho in a video taken by Radio X's Dan O'Connell:
See their stripped-back version of L.S.F:
Watch Tom and Serge play Stevie at the intimate venue below:
Last weekend the Leicester outfit headlined TRNSMT Festival, which has announced it will return for a second year.
See the crowd chant along to L.S.F in a video posted to TRNSMT's Facebook page: