Kasabian Talk "Feel-Good" For Crying Out Loud Album
17 March 2017, 10:40 | Updated: 17 March 2017, 16:22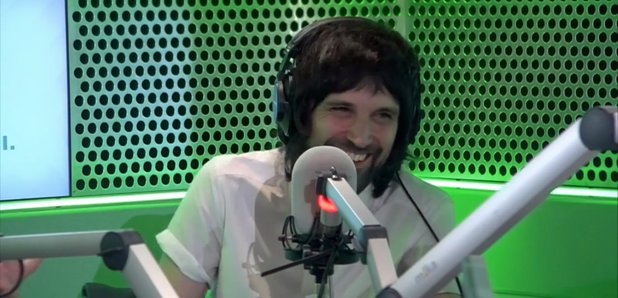 Tom Meighan and Serge Pizzorno told Radio X's Johnny Vaughan their sixth record is "full of hope".
Kasabian have described their new album as "feel-good" and "full of hope".
When asked about the vibe of their sixth studio release - which is entitled For Crying Out Loud - they revealed: "It's a real feel-good record. Positive get-up-and-go innit."
Guitarist and writer Serge Pizzorno added: "It's an album full of hope, at a time when there's not a lot going around."
Watch our Facebook live with the band from 14:59 here:
Talking about the fact their album was written in just six weeks, Serge revealed: "The first 10 tunes were done pretty fast," with frontman Tom adding: "I was buzzing".
To celebrate their new album, the Leicester outfit have announced eight intimate UK dates.
Pre-order For Crying Out Loud now for access to exclusive gigs! Out 28th April https://t.co/n31q0hlOW4 #ForCryingOutLoud pic.twitter.com/NPb9QfOn8f

— KasabianHQ (@KasabianHQ) March 17, 2017
SEE THE FULL FOR CRYING OUT LOUD TRACKLIST:
1. Ill Ray (The King)
2. You're In Love With A Psycho
3. TwentyFourSeven
4. Good Fight
5. Wasted
6. Come Back Kid
7. The Party Never Ends
8. Are You Looking For Action
9. All Through The Night
10. Sixteen Blocks
11. Bless This Acid House
12. Put Your Life On It