Kasabian Play Surprise Gig At Leicester Parade & Release More King Power Tickets...
17 May 2016, 09:30 | Updated: 17 May 2016, 17:55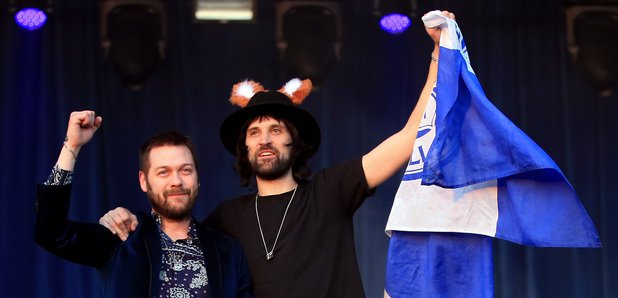 The band surprised football fans by performing four tracks at Leicester's Victoria Park.
Kasabian surprised Leicester city fans at Victoria Park with a gig during their Premiere League Cup celebrations.
The home-grown band played a four-song-set, including Fire and Underdog, which was used whenever Leicester City scored.
See some of the pictures and videos from their impromptu gig below:
KASABIAN ARE COMING ON! THAT'S THE SURPRISE AT THE #LCFCPARADE pic.twitter.com/CyiUeovcBC

— Bilal (@suicidalidol) May 16, 2016
KASABIAN FOR FREE THANK YOU LEICESTER pic.twitter.com/KLeMkdJNMj

— | will | (@WillEFCJordan) May 16, 2016
Surprise performance from Kasabian during yesterday's #LeicesterParade Brilliant atmosphere #LCFCParade @LCFC pic.twitter.com/gPk6YpCwdF

— Nick Potts (@NickPotts_PA) May 17, 2016
And in fairness.... #kasabian weren't bad! #lcfc View from backstage. pic.twitter.com/dS5CwVJ6H0

— Rob Dorsett (@Dorselator) May 16, 2016
Can hear @KasabianHQ belting out 'fire' from my back yard in Whetstone.. #lcfcparade

— Louisa Letts (@Lou15aLetts) May 16, 2016
The band even took time out to take selfies with fans:
Selfie with @KasabianHQ #LCFCParade #LCFC @holly_morgan10 @LCWFC_official pic.twitter.com/U1JPCHLUyD

— Jade (@jashley159) May 17, 2016
Tom and Serge also posed with their young family on stage, who were clad head-to-toe in the Leicester football kit.
#Kasabian: Victoria Park, Leicester 16/05/16 (via Laurence Griffiths / Getty Images | @MicKasabian) #LCFC pic.twitter.com/UyxqQCbZga

— Kasabian Brasil (@kasabianbr) May 16, 2016
Kasabian will mark the occasion again at the end of the month, playing two huge dates at Leicester City's home ground, King Power Stadium, on 28 and 29 May.
Today the band also revealed they have released more tickets for both dates at the stadium.
BREAKING: More tickets just released for BOTH dates at Leicester King Power stadium via this link: https://t.co/qOT8InJCHn

— KasabianHQ (@KasabianHQ) May 17, 2016
The band are also paying two warm-up gigs at Bridlington's Spa and Swindon's Oasis on 24 and 26 May respectively.