Danny Dyer Inspired Serge Pizzorno To Research His Ancestry
3 February 2017, 13:16 | Updated: 23 February 2017, 19:11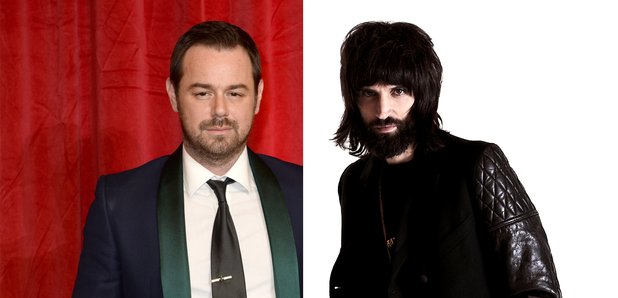 The Kasabian guitarist says watching Dyer's episode of Who Do You Think You Are? prompted him to delve into his family history.
Serge Pizzorno has been inspired to start researching his ancestry after seeing Danny Dyer on Who Do You Think You Are?
Kasabian's guitarist and songwriter is on a mission to find out if he's also related to a member of the royalty after seeing the actor on the BBC show.
"I watched Danny's episode and I was buzzing, the Eez-Eh star told The Sun. "I think everyone deep down must have some royal connections.
"The reality is, it's probably a load of criminals and wrong-uns. But I've got Italian family so I'm delving in there, who knows what I'm going to learn."
Danny Dyer stunned viewers on the BBC series, when he found his direct ancestors were William the Conqueror, Edward III and Thomas Cromwell.
The show saw the Eastenders man take the news in a hilarious fashion, first not being able to get his "bonce" around it, then wanting to buy a "massive ruff".
My moment of 2016? Danny Dyer in Who Do You Think You Are. #wdytya

'Think I'm gonna buy myself a ruff' pic.twitter.com/prUCWprB1Z

— Ed Ha¥garth (@edhaygarth) January 1, 2017
Meanwhile, Kasabian have recently been announced to headline Reading and Leeds 2017.
The Fire outfit will join Muse in headlining the twin festival, which takes place on the August Bank Holiday.
Speaking to Radio X about their forthcoming set, Serge said we can expect some "serious business" to happen.
Asked if he was excited to top the bill at the twin festival, he replied: "Yeah. I've been tinkering away and now it's time to unleash this new record, which I'm so excited about."
He added: "And announcing that one of the first shows back is arguably one of the best festivals in the world... Some serious business is gonna happen, I tell you."
And when it comes to frontman Tom Meighan, it seems he's just as pumped, with Serge revealing: "He's so ready for this."