Kasabian's 2018 UK Live Dates: How To Buy Tickets
28 February 2018, 16:22 | Updated: 5 March 2018, 14:48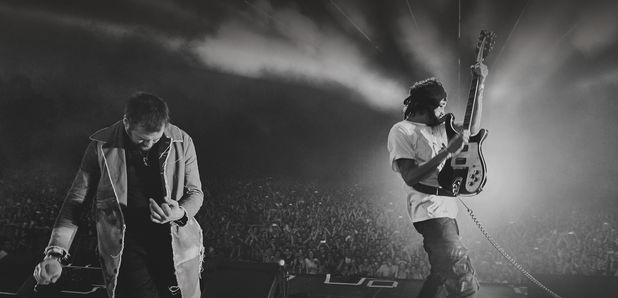 As the Eez-Eh rockers prepare to perform at The Global Awards, we take a look at where else they're headed this year and how to be in the crowd.
Kasabian played an epic set at The Global Awards, where they took home the prize for Best Indie.
In fact, the Leicester rockers - made up of Tom Meighan, Sergio Pizzorno, Chris Edwards and Ian Matthews - smashed their performance so much, the actual broke off a glass at its stem with their sound.
Watch them in action below:
However, it's not the only place the For Crying Out Loud rockers are headed to this year.
See the the rest of their UK dates below:
Friday 23 March 2018 - Halifax Victoria Theatre - SOLD OUT
This is ON! See you soon Halifax! On sale FRIDAY! pic.twitter.com/bPjkeqxL0M

— KasabianHQ (@KasabianHQ) February 21, 2018
Saturday 24 March 2018 - Royal Albert Hall, Teenage Cancer Trust - Buy tickets here
Huge news! We're so excited to announce @thecourteeners and @KasabianHQ as the first 2 headliners for our 2018 #TeenageCancerGigs @RoyalAlbertHall in association with @AldiUK! https://t.co/mF5Laepqts pic.twitter.com/YtkUJZUfGy

— Teenage Cancer Trust (@TeenageCancer) December 11, 2017
Sunday 10 June 2018 - Forest Live, Thetford Forest - SOLD OUT
Thetford Forest is now SOLD OUT pic.twitter.com/whKtM1EnNH

— KasabianHQ (@KasabianHQ) December 15, 2017
Friday 22 June 2018 - Isle Of Wight Festival, Newport - Buy tickets here
We are READY #IOW50

Get your tickets today! https://t.co/UXNbKKLSei pic.twitter.com/8ChR8kROz8

— Isle of Wight Fest (@IsleOfWightFest) February 26, 2018
Saturday 18 August - Edinburgh Summer Sessions, Princes Street Gardens - Buy tickets here
BIG NEWS: We're playing Prince Street Gardens in Edinburgh on Saturday 18th August!
On sale 9am THIS FRIDAY February 23rd via https://t.co/hqVZiQQefH @SmmrSessions pic.twitter.com/f6HkHTCe2X

— KasabianHQ (@KasabianHQ) February 20, 2018
Monday 20 August 2018 - Custom House Square Belfast
Watch Tom & Serge play a stripped-back version of Stevie below: