Kaiser Chiefs: "We're A Similar Band To Foo Fighters"
19 July 2015, 06:00 | Updated: 21 July 2015, 13:31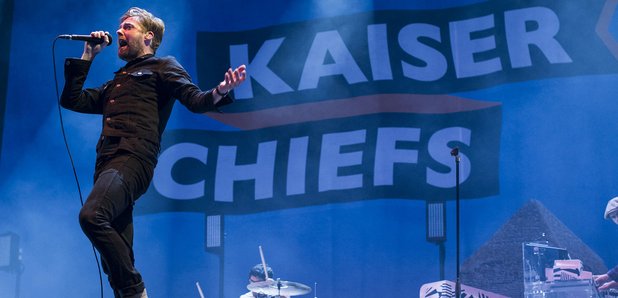 The band claim they're a "good fit" to support Dave Grohl and his team as they play Benicassim in Spain.
Speaking backstage at the Spanish festival, keyboardist Nick "Peanut" Baines and bassist Simon Rix were recalling their recent tour dates with Big Dave.
"I'm not sure what everyone thinks, but I think we're a very good fit to support them, Simon said. "It seems weird to say but we're quite similar bands. We both give 100% and Dave's mission is to make sure that every single person in the arena, stadium, whatever it is, is having the night of their life."
"That's his mission. And I think that's what we do as well. the crowd is the most important thing."
Kaiser Chiefs have a long relationship of supporting the Foo Fighters, playing with them earlier this year at Sunderland's Stadium Of Light and joining them on their South American tour last year.
Speaking of new material, Simon went on to say "we've written a lot of stuff. But it's a bit unfocused. I think what we need to do now is go in the studio, record some of the songs we like the best. That's the only way you know what it sounds like."
Their last album, Education, Education, Education And War, came out in 2014.