Johnny Marr joins fight to save Manchester's Night and Day Cafe
16 January 2014, 12:06 | Updated: 18 August 2014, 15:21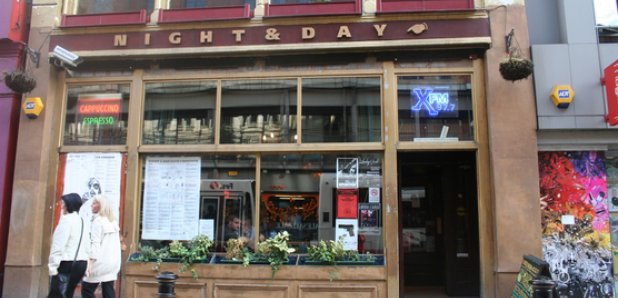 Johnny Marr, Frank Turner and Tim Burgess have all urged their fans to sign a petition to save Manchester venue the Night and Day Cafe.
The venue is under threat after a neighbour complained about the noise, leading to it being given a Statutory Nuisance Abatement Notice by Manchester Council.

"The complaint is for us to turn our volume down to such an extent that we would no longer be able continue as a live music venue," promoter Gareth Butterworth said on Facebook. "We're appealing the notice and need your help in doing so!"

The venue has been a "firm staple" on the Manchester arts scene for 23 years and, according to Gareth, has spent thousands on making itself environmentally friendly.

"This will bring to an end the employment of everyone who works here, not to mention, destroy one of the major hubs for live music, for both local and international musicians," Gareth added.

"We are looking for your support to fight this! Too many small live music venues are being closed down, let's no let this be another!"

More than 27,000 people have already signed the petition - which has a target of 35,000.

Johnny Marr is among them.
Help save Night & Day music venue from a stupid and totally unnecessary closure. Be empowered and help music. http://t.co/KlQHrLeZvx

— Johnny Marr (@Johnny_Marr) January 16, 2014

Frank Turner and Tim Burgess have also tweeted their support for the petition - which you can find here>>
The Night and Day Cafe says it has tried to work with the neighbour who made the complaint, who has lived in the area for less than a year, and that they are willing to take the matter to court if needed.