Jamie T Postpones Futher UK Tour Dates Due To Illness
12 October 2016, 12:04 | Updated: 12 October 2016, 12:09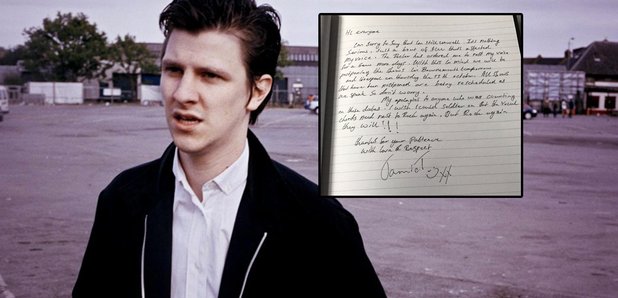 The Power Over Men singer has cancelled his dates in Bournemouth and Liverpool this week.
Jamie T has postponed further dates on his UK tour due to illness, after postponing Monday night's show at the Brixton Academy.
The Wimbledon man, who released his Trick album last month - took to Twitter to share the bad news with his fans, writing: "I'm sorry to say that I'm still unwell. It's nothing serious, just a bout of flu that's affected my voice".
The Power Over Men singer went on to confirm that his gigs in Bournemouth and Liverpool, which were set for tonight and tomorrow on 12-13 October, were both postponed.
See his full message, which included his handwritten message, below:
October 11, 2016
After apologising for disappointing fans, the Tinfoil Boy reassured them that the dates were being "rescheduled as we speak".
The news follows the postponement of his third Brixton gig, which was announced on 10 October.
October 10, 2016