The Who And Guns N'Roses To Play Joint Shows
8 May 2017, 10:24 | Updated: 8 May 2017, 10:48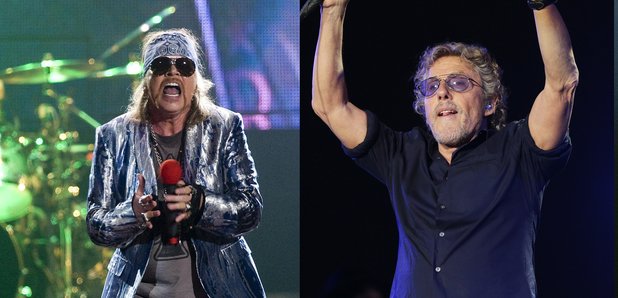 The two legendary bands are to perform co-headline shows later this year.
Guns N'Roses and The Who have confirmed they are set to perform together at festivals this summer.
The American rockers will join the veteran mods at Rock In Rio in Rio De Janeiro on 23 September and will then play Argentina's Estadio Único De La Plata in Buenos Aires on 1 October.
According to Blabbermouth, shows are also planned for Brazil, Peru and Chile.
ARGENTIN #GnFnR y @TheWho
Juntos por única vez este 1 de octubre
Visita https://t.co/R8emcxgCHw para más información pic.twitter.com/wOvF42fDXg

— Guns N' Roses (@gunsnroses) May 4, 2017
Axl Rose is a big fan of the British band, having covered their 1970 single The Seeker at shows last year,
This might actually, definitely, positively be the very last shows that Roger Daltrey and Pete Townshend play as The Who. The duo are to embark on a residency in Las Vegas in July and August and the singer has claimed that those shows might be their last.
"We seriously don't know if we'll ever play again after this tour," Daltrey said earlier this year.
"People at our age have been popping their clogs, so let's just get real here, where we are in our lives. We're doing remarkably well for where we are but we just don't know. If we get through this year, we're gonna need some time off. We'll re-think it after that."
Meanwhile, Guns N'Roses' next show on their Once In A Lifetime tour is at Dublin's Slane Castle on 27 May with Royal Blood, Otherkin and Mark Lanegan. They return to the London Stadium on 16 and 17 June.