WATCH: Guns N' Roses Fan? Good News If You're Still Hoping To See Them Live...
29 July 2016, 12:23 | Updated: 29 July 2016, 18:00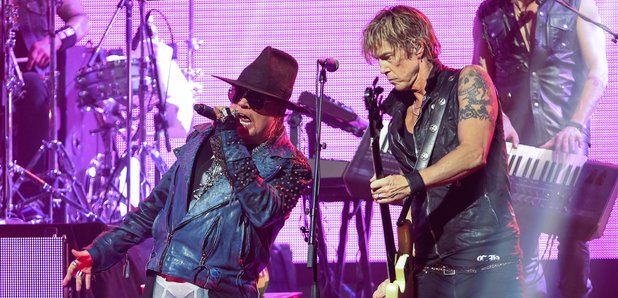 Dale Skjerseth has been told "there's no end date" for their Not In This Lifetime tour.
Guns N' Roses are set to extend their reunion tour into 2017, according to their production manager.
As Alive 11 reports, the Welcome To The Jungle rockers - who are performing with their classic line-up consisting of Axl Rose, Slash and Duff McKagan - will be continuing their Not In This Lifetime tour well into next year.
Speaking to local reporters, their production manager Dale Skjerseth has revealed: "I've been told there's no end date, and I've seen plenty of dates going into next year, far into next year."
He added: "Everybody's working together to keep a common goal and common direction: keep the machine going."
See him talk about the band's future in this video, courtesy of Alive 11 News, below:
Meanwhile, it was reported that up to 30 people were arrested at a recent Guns N' Roses gig last weekend.
According to New Jersey 105.1 radio , local police said people were arrested for various crimes, last Saturday (23 July) with at least 11 arrested for solicitation at New Jersey's MetLife stadium.

The band are set to continue their North American tour, playing a date at the Camping World Stadium tonight (29 July) in Orlando, Florida.