LISTEN: Are Guns 'N' Roses Planning A New Album?
6 June 2017, 12:35 | Updated: 6 June 2017, 12:41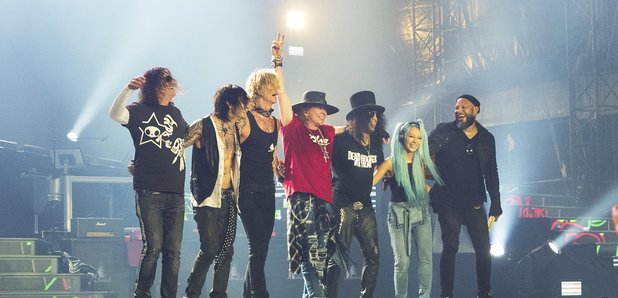 Guitarist Richard Fortus has revealed in a podcast that the band have "been recording a lot of stuff".
Guns N' Roses could be planning on releasing another album.
The Paradise City rockers - currently comprised of Axl Rose, Slash, Duff McKagan, Richard Fortus, Dizzy Reed, Frank Ferrer, and Melissa Reese - haven't "started recording anything" for a potential seventh studio album just yet, but guitarist Richard Fortus believes the idea of a new album would be "too good not to happen".
He told the StageLeft podcast: "We haven't started recording anything, when I say that, as far as in the studio doing an album. We've been recording a lot of stuff, just ideas, assembling ideas, but not going into a studio and actually tracking a new record.
"It's sort of too good not to happen at this point, that's how I feel about it. This band is really a force right now, and I definitely hope that we do, and I think we're all sort of counting on it, and we're also planning on it."
Listen to the StageLeft podcast here:
Fortus also went on to praise frontman Axl Rose on his songwriting skills, as he dubbed the Welcome To The Jungle hitmaker as a "genius".
He explained: "I think the genius of Axl is his ability to assemble songs, from different parts, and make them feel cohesive as a song. I've never seen anybody able to do that in the same way."
If the band were to release a new record, it would be their first in almost a decade, since their last album Chinese Democracy was released in 2008.
A new album would also mark the first since 1993's The Spaghetti Incident? to include Slash and Duff McKagan, who left the Sweet Child O' Mine rockers in 1996 and 1997 respectively.
Meanwhile, Guns 'N' Roses are currently on the European leg of their Not In This Lifetime Tour, which includes two dates at the London Stadium on 16th and 17th June.
See their full tour dates on their official website.