Axl Rose "All But A Done Deal" To Replace Brian Johnson On AC/DC Tour?
24 March 2016, 10:00 | Updated: 24 March 2016, 18:35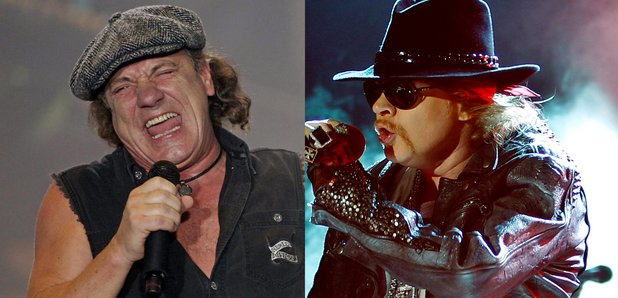 Atlanta Radio DJ, Jason Bailey, claims a "very very good source" said Rose will play the band's 10 remaining shows.
Guns N' Roses' Axl Rose could be set to fill in for AC/DC frontman Brian Johnson on their Rock Or Bust tour.
The Aussie band were forced cancel tour dates this month, after doctors advised Johnson would risk "total hearing loss" if he continued to perform.
Now, according to Alternative Nation, radio DJ Jason Bailey has heard from a "very good source" that Axl Rose could be filling in for the Geordie singer.
Speaking on his Bailey and Southside show on Atlanta Radio 100.5 Bailey revealed: "Axl was meeting with the AC/DC group, because it's all but a done deal that Axl will front AC/DC for the 10 remaining shows. All 10, including Atlanta."
He added: They're in town, they were auditioning people for the job, and then they flew Axl in, again, this is from my source."
A rep for the band has told NME: "Nothing official to announce. Will update you if that changes."

The aren't the only rumours surrounding Axl Rose this week, after a fan who met the frontman said he teased a "whole" GnR tour this year.
Meanwhile, AC/DC's "original singer" Dave Evan's offered himself up for a "one guest performance" with the Black In Black band, but thinks it's unlikely that it would happen.
Speaking to the Sydney Morning Herald he said: "It'll never happen [...] but it would be nice to do one guest performance. [Former members] were all part of the band no matters what era they were from."