Axl Rose Reportedly Tells Fan Guns N' Roses Will Do A "Whole Tour"
21 March 2016, 13:47 | Updated: 21 March 2016, 13:52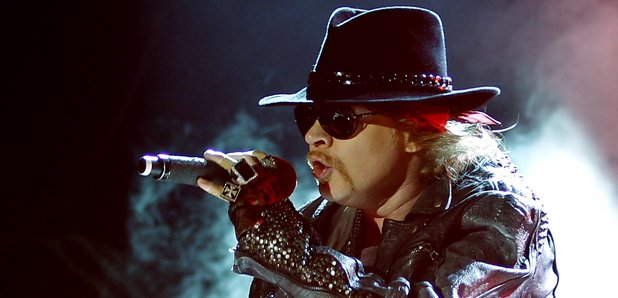 Mark Guglielmo, who met Axl Rose in Atlanta, has shared details of their brief conversation.
Guns N' Roses announced their return as a "classic" line-up at the beginning of this year, confirming headline dates at Las Vegas and Coachella.
Now - according to a fan who met their frontman, Axl Rose, Slash and Duff McGagan could be set for a "whole tour".
According to Loudwire, Mark Guglielmo bumped into Rose outside a hotel in Atlanta when he wished him good luck for their Las Vegas shows.
However, Guglielmo claims Rose replied: "Thanks man, but we're gonna do a whole tour."
See their picture below:
The Welcome To The Jungle rockers will play Coachella Music And Arts Festival in Indio, California on 16 and 23 April.
Axl Rose, who had been teasing the announcement all month, news finally took to Twitter to announce
Ok,ok... It's "confirmed!" Guns N' Roses is Headlining Coachella 2016!! See Everyone There!!

— Axl Rose (@axlrose) January 5, 2016
The band have also confirmed dates in Las Vegas and Mexico so far, but are yet to confirm any UK dates.
Meanwhile, original rhythm guitarist, Izzy Stradlin, confirmed in February that he has "no involvement in the upcoming GNR shows", while drummer Steven Adler has so far remained silent.
Read his post on Twitter:
@gunsnfnroses At this point in time , I have no involvement in the upcoming GNR shows of April 2016 .
Izzy Stradlin

— Izzy Stradlin (@IzzyStradlin999) February 28, 2016